Love in the air, as new wedding store opens in Oldham
Date published: 05 February 2019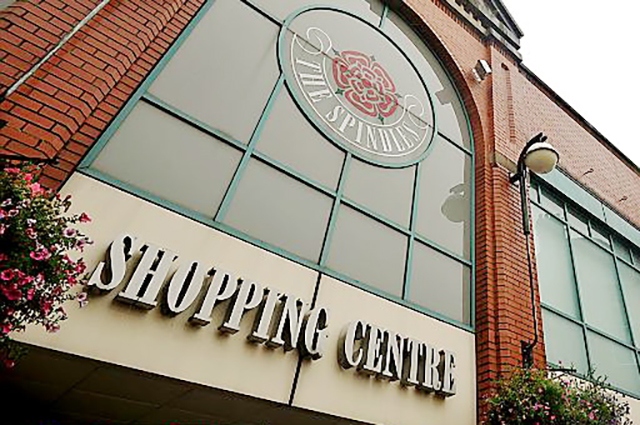 The shop will be situated in the Town Square Shopping Centre
Love will certainly be in the air when a new wedding and occasion wear store opens its door in Oldham… on Valentine's weekend.
The new store, 'Heart 2 Heart', will be situated in the Town Square Shopping Centre, opposite Beaverbrooks jewellers, and will be open for a ten-week run up to Easter.
The shopping centre is in its third year of a charitable partnership with Dr Kershaw's Hospice.
Mike Flanagan, Centre Manager at the Town Square, said: "We are delighted to see this store come to fruition.
"A lot of work has been done in the background and we are committed to playing our part in making this happen.
"The store is at the junction of the main walkways and we are sure that our visitors will like what they see."
The Kershaw's team are hard to work preparing the shop ready for its Valentine's weekend launch, taking advantage of an excellent shop layout, featuring a double-fronted window, large display area and four fitting rooms.
Jill Kirkham, Deputy Income Generation Manager said: "We have an amazing array of occasion and wedding wear for ladies, gents and children on offer, much of it is brand new.
"The store offers a stylish experience in pleasant surroundings as our customers look to make that special purchase, at a price to suit all pockets much."
Royton dry cleaners, Taylor's, have are supporting this new venture by supplying covers for the bridal wear, keeping it in pristine condition for our brides-to-be.
In addition to the array of attire for that special occasion, there will be a selection of designer hats, fascinators, shoes and handbags all at fantastic prices.
Heart 2 Heart are looking for volunteers with experience in the bridal or retail sector to help make this a very special experience for visitors. Contact Nikki Butterworth on 0161 624 2727.