Oldham dentists help to raise £250,000 for charity
Date published: 20 February 2019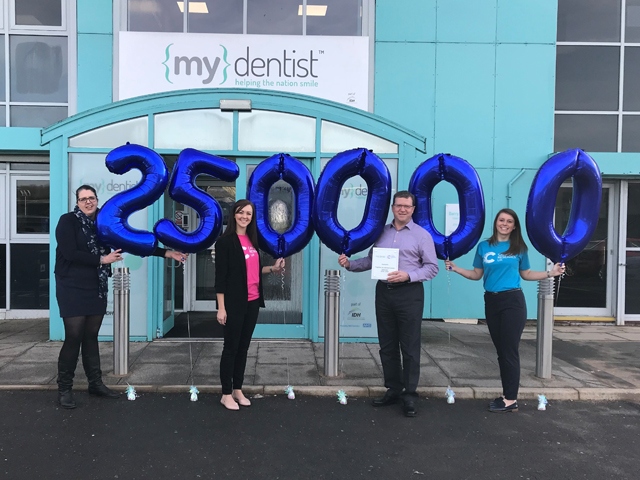 £250,000 has been raised for Cancer Research
Two dental practices in Oldham have played their part in raising a quarter of a million pounds for charity.
The funds were raised by mydentist, a network of surgeries around Europe, for Cancer Research UK.
Employees, clinicians and patients have clubbed together to raise £250,000 through a number of fundraising events across the country.
It's a partnership between the network and the charity that has been running since 2016.
They have taken part in events like Walk All Over Cancer, where participants take on a sponsored walk, as well as Stand Up To Cancer and World Cancer Day.
Nyree Whitley, Clinical Director at mydentist, said: "We're thrilled to have reached the £250,000 mark.
"It's been a pleasure working alongside Cancer Research UK to raise vital funds over the past few years.
"I've seen a real enthusiasm from our teams across the business to fundraise, and it's been great seeing the regions come together.
"It's a charity close to our hearts, not only because of the devasting number of people affected by cancer, but because of the links to our business.
"Mouth cancer rates are on the rise, so we've been working collaboratively with CRUK over the past few years to educate not only our patients but our teams and clinicians on the latest innovations in mouth cancer research."
Employees have brought a smile to patient's faces by sporting festive head gear and wearing world socks.
mydentist's head office have raised over £13,000 through donating unwanted items and other colleagues have raised money by taking part in marathons and half marathons, as well as Race For Life and Pretty Muddy's across the country.
Trudy Stammer, Head of Volunteer Fundraising at Cancer Research UK said: "We are extremely grateful for all the time and effort invested by mydentist staff and customers.
"We would like to say a huge thank you to everyone who has fundraised towards this impressive total so far.
"All funds raised will go towards the charity's research to beat over 200 types of cancer, helping to bring forward the day when all cancers are cured.
"We are proud to be supported by all of mydentist practices and central support office to beat cancer."
Cancer Research UK receives no Government funding for its ground-breaking research.