Oldham Council defends planning decisions after head of planning suspension
Date published: 06 August 2019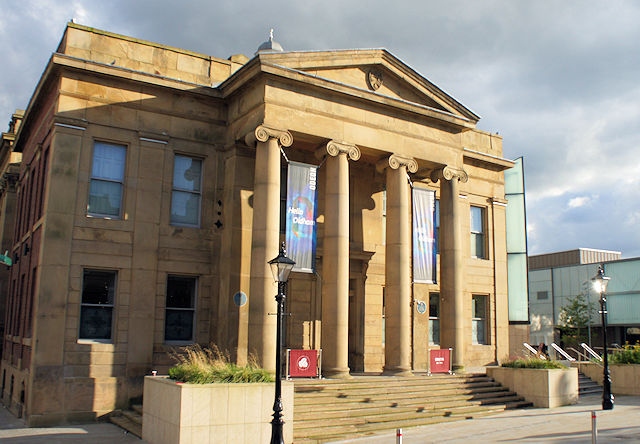 Oldham Old Town Hall
Oldham Council says the correct procedures have been followed over proposed housing developments, in light of the suspension of its head of planning.
The borough's Liberal Democrats are calling for an investigation to see if the suspension of Stephen Irvine relates to applications at Knowls Lane and Hodge Clough Road.
Mr Irvine was suspended over allegations of "gross misconduct".
The Knowls Lane development has been wrapped in controversy, as local groups strongly oppose the project to build 265 new homes on greenfield land in Lees.
The other application is for 32 houses at Hodge Clough Road.
The council says a thorough investigation into the application process has taken place and the decisions of the planning committee will stand.
It follows a complaint by the borough's Liberal Democrat leader, Councillor Howard Sykes, who wrote the deputy chief executive to flag up the Knowls Lane application as one of two schemes to be investigated in light of the allegations.
Cllr Sykes wrote: "If it is the case that the allegations of 'gross misconduct' apply in any way to either of these applications, then I would ask that a similar process to the way that the approval decision for Saddleworth School was passed and then 'revoked', the decisions in relation to these applications are similarly 'revoked' and returned to the Planning Committee with appropriate reports for decision.
"The impact of both these applications is huge, especially in relation to openness, transparency and public confidence. People need their faith restoring in modern politics, the Liberal Democrats want answers for local residents."
Hannah Roberts Cabinet Member for Housing, said: "We have received a number of complaints in relation to the planning applications at Hodge Clough Road and Knowls Lane and the key areas have all been addressed and responded to.
"Where there are found to be more detailed and specific questions, those complainants will receive a separate response.
"A thorough investigation into the process has been carried out and we are satisfied that all procedures were correctly followed in line with legal requirements.
"The decision taken by the Planning Committee stands as we believe the developments are in the best interest of the borough."
"It is not appropriate for us to comment on the employment status of individuals."