200 Years Ago Today - The Legacy of Peterloo
Date published: 16 August 2019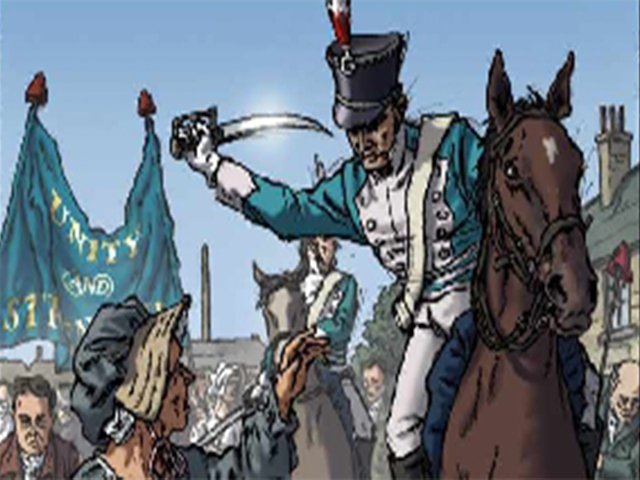 Ridden Down
Manchester's Peterloo massacre was a defining moment in British democracy, with many historians saying it gave rise to some of our crucial freedoms today.
The peaceful pro-democracy rally at St. Peter's Field, turned into one of the bloodiest and most notorious episodes in British history.
On the 16th August 1819, the open area around what's now St. Peter's Square in Manchester saw a demonstration which led to an estimated 18 people getting killed and nearly 700 seriously injured, after they were charged by 1,000 Yeomanry of the day.
An estimated 60,000 to 80,000 peaceful pro-democracy and anti poverty protestors had marched to demand political reform. Fewer than 2 percent had the right to vote, during a time of tension and upheaval
John Lees from Oldham was one of the casualties. He had been present at the battle of Waterloo and was an ex-soldier on the day. He was beaten black and blue and died from his injuries a few weeks later. Shortly before his death he told a friend he'd never been in such danger at Peterloo.
"At Waterloo there was man to man, but there it was downright murder"
John Lees was the only victim to have an inquest, but it was curtailed to stop a verdict of unlawful killing. After his story was told, he emerged as one of the heroes of the labour movement.

Backdrop to Peterloo.
There was a perfect storm brewing before Peterloo, of massive social disparity.
Average families 200 years ago were struggling to feed their families, with what were known as The Corn Laws. Prices for corn, barley and wheat were artificially inflated.
Wealthy farmers and land owners were making money off the working classes. The cotton industry bubble had burst and weavers and workers incomes were getting lower.
British authorities were scared of a similar uprising to The French Revolution and were ready to use force, to suppress ordinary people.
Manchester was still a town at this stage, but it had a population of 100,000 people. Despite this there was only one MP to represent them. People were demanding change and reformation of the House of Commons.
Henry Hunt was the reformist of the day and started a grass roots movement, to gather the support of our region. It turned into a mass mobilization of people from as far away as Yorkshire and north Lancashire, on the 16th August 1819.
Hunt was trying to make sure there was a peaceful demonstration organized, to give people a voice. He was determined that no weapons should be used, so that none of them could be accused of breaking the law.
The majority of people made their way on foot to central Manchester, some walking miles and many dressed in their Sunday best.
Lots of them took their children, as it was seen as a bit of a day out, with many bringing picnics. They were carrying banners which read 'Reform', 'Universal Suffrage', Equal Representation' and 'Love'.
They wanted to show that they were respectable citizens and that they had everything, apart from the right to vote.
One of the places people had practiced their marching, was Tandle Hill, which is between Oldham and Rochdale.
Authorities were nervous and suspected an armed uprising, but it was exactly the opposite. Protestors were told to go to Manchester in a peaceful and democratic manner.
The 16th August 1819
It's estimated 60,000 – 80,000 people gathered that day, whilst there was roughly 1,000 troops, who'd been assembled.
Magistrates of the day insisted they'd read the 'Riot Act', before orator Henry Hunt spoke. But no witness on the day recalls hearing this at all.
Laws of the time stated that a crowd should disperse within an hour, after the act had been read. Otherwise they could be forcibly removed.
Henry Hunt had barely started speaking to the audience, before Manchester Yeomanry started charging at the field.
Soldiers used their weapons to start injuring and killing people. One of the first to be knocked down and trampled to death, was a 2 year old boy named William Fildes.
The crowd started to panic and began to flee. The 15th Hussars arrived, followed by the Cheshire Yeomanry. Little more than an hour after the crowds had gathered, the field was cleared of demonstrators, but some people were still pursued.
By two o'clock on the day speaker Henry Hunt was arrested, along with fellow reformers and taken to New Bailey Courthouse to be charged. The carnage was evident, with the field full of injured or dying men, women and children.
Many say women were attacked very violently. One of them was a pregnant mother of six and another a mother of seven children, who was beaten over the head by a Special Constable.
There were continued attacks that day. Rioting erupted in different parts of the town. The trouble continued into Saturday 17th August. An alarm was raised that a crowd was advancing down Oldham Road to attack Manchester.
By that evening there was rioting in Macclesfield. Buildings were attacked, arms were seized and a London Mail coach was delayed several hours.
Journalists present at St Peter's Field on the day were arrested, others who reported the event were jailed. It eventually led to businessman John Edward Taylor helping to set up The Manchester Guardian newspaper, which is known as The Guardian today.
The people who'd organized the demonstration were put on trial, under the charge of High treason, which was eventually dropped by the prosecution.

The magistrates of Manchester, who'd ordered the troops to charge and Hussars were cleared of any wrong doing, by an official inquiry. They also received congratulations from the Prince Regent.
Legacy
Peterloo caused outrage across the country, among ordinary citizens. It is now acknowledged as hugely influential in establishing our democracy, in helping pave the way for ordinary people to have the right to vote. Trade Unions were also set up in the years afterwards.
The People's History Museum in Manchester and Gallery Oldham have real artifacts from the Peterloo massacre on display. Events are taking place across this weekend, to mark the special anniversary.
---
Do you have a story for us? Want to tell us about something going on in and around Oldham? Let us know by emailing news@oldham-chronicle.co.uk , calling our Oldham-based newsroom on 0161 633 2121 , tweeting us @oldhamchronicle or messaging us through our Facebook page. All contact will be treated in confidence.