Oldham vegan activist comments on activity at Tulip in Ashton today
Reporter: Grace Marner
Date published: 20 February 2020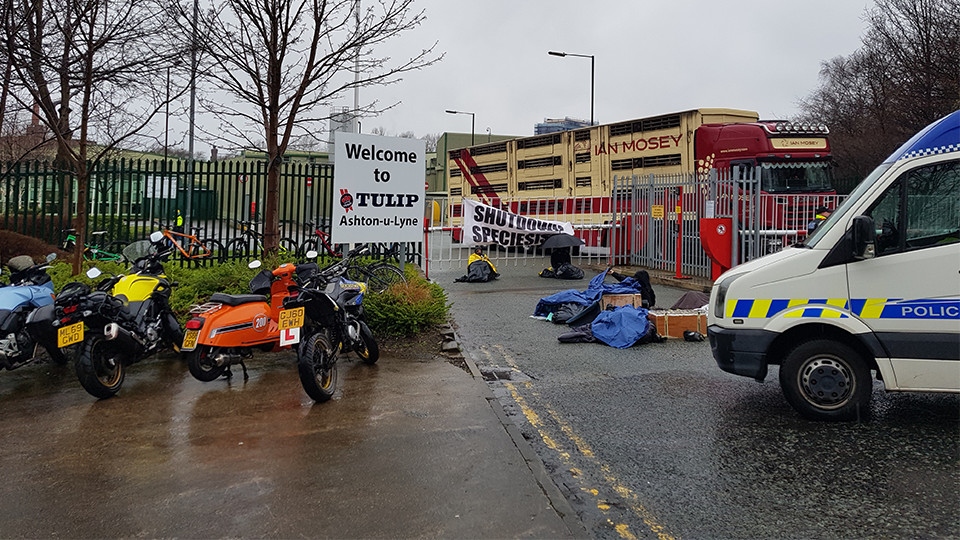 Activists chained themselves outside of Tulip in Ashton today
Vegan activists have chained themselves to the gate which has left the trucks unable to enter the premises.
Police were on the scene cutting the activists free from the gates.
Revolution has been told that workers have been sent home as they can't currently work.
We spoke to Danny Sheppard from Oldham, a vegan activist who is often outside the factory holding vigils while the pigs are taken into the gas chamber.
Although he's not there today, he said he fully supports the cause:
"I just think these people who are causing the disruption are doing it for a valiant cause. The only way we can get change is to cause disruption. I think good on them and I hope they're victorious."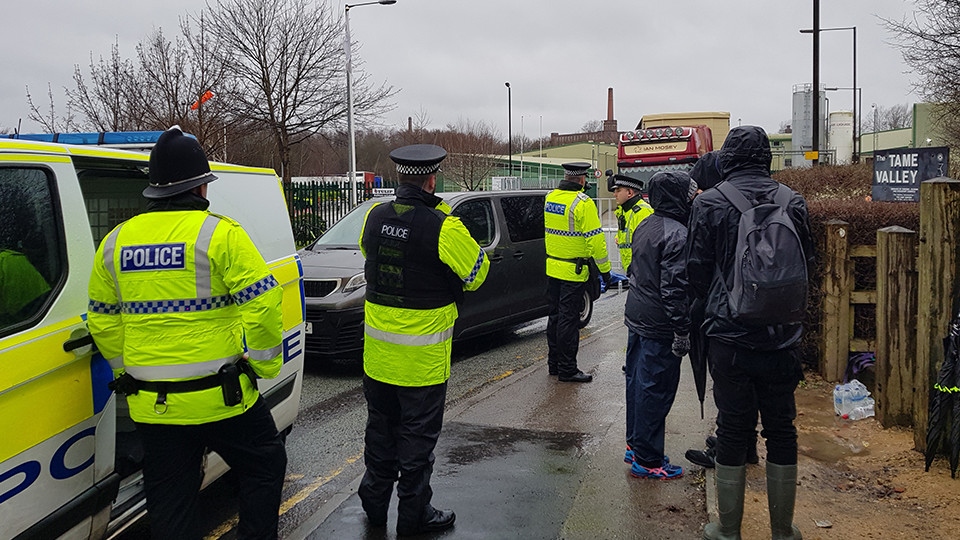 Smash Speciesism released a video on their Facebook page where they stated they have "taken over".
The post states:
"We've taken over purposefully and without remorse because we have had enough. We've taken over because the animals have had enough. We've taken over because the planet has had enough.
"We've all had enough of abuse, of needless greed and of objectifying animals like they are goods. Because we are unwilling to take it any longer, we take over and shut you down.
"Tulip had hundreds pigs scheduled to be gassed to death in their slaughterhouse in Manchester today. Because we arrived early and decided to keep those gates closed for as long as possible, Tulip will be unable to allow any pigs entering the facility.
"The gates won't open, the people won't move and the pigs will not be killed. Four lock ons, three bike locks and two chains will keep hundreds pigs alive. Let's remember that each one of those pigs, each one of the hundreds of pigs, has an individual story, a personality, needs, fears and desires. To the capitalist industry they are numbers in a piece of paper, profits -or in the case of today, lost profits - that are coldly calculated, added on to the already sickening number of deaths caused by Tulip.
"Tulip, this is just the beginning. You can expect us fighting alongside the victims you're creating on a daily basis until you no longer exist. We are not willing to compromise in the fight for total liberation."
We spoke to Simon who is one of the activists there:
"We're here because we want to stop the needless and violent slaughter of pigs. What happens at Tulip is that they use gas chambers and not many people are aware that the majority of pigs killed for food in the UK are forced into gas chambers."
While we were speaking, cheers were heard in the background when one of the activists was cut free by the police to be arrested.
"It's a very civil atmosphere, it's very respectful on both sides and everyone's just here making sure everyone is safe but the animals are not being taken to their death today which is the main thing."
"While we don't want to get in the way of anybody going about their jobs, our focus is on the animals."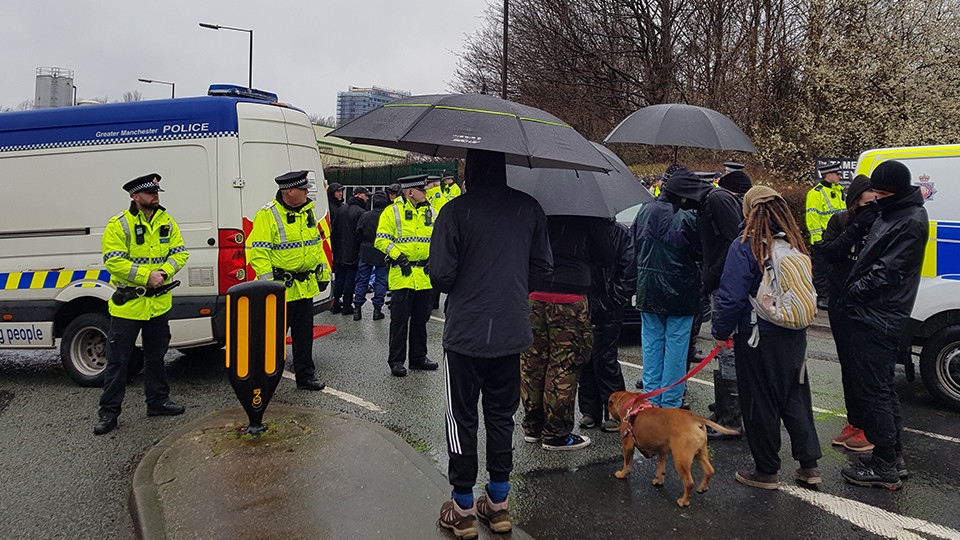 Danny added:
"We have a vigil where we sort of acknowledge the pigs as they go in and film them and let people see that these are living, breathing creatures before they go into the gas chambers. At Tulip meats they put pigs in gas chambers and then they get stabbed in the throat. Over 3,000 pigs a day get murdered there so this group is a separate group. We didn't know anything about this and they are taking it to actually stopping anything happening.
"They're doing it for a big cause because it's unnecessary killing."
"It's not Tulip meats in particular, it's the industry as a whole. Obviously Tulip is a big company that murders a lot of animals. It's a terrible business. They scream, the thrash around and they basically burn from the inside out and it's not a very nice way to treat animals at all."
In a statement, Tulip told us:
"The Tulip site in Ashton has worked closely with local police and activists affiliated with The Save Movement for a number of years to accommodate their lawful right to protest peacefully. Today's activity appears to be co-ordinated by a different group who have adopted tactics which they seem to consider to be more disruptive. While these activities are an inconvenience to operations, our main concern is ensuring the welfare of the animals in our care and the safety of our people, which this activity has directly put at significant risk."
---
Do you have a story for us? Want to tell us about something going on in and around Oldham? Let us know by emailing news@oldham-chronicle.co.uk , calling our Oldham-based newsroom on 0161 633 2121 , tweeting us @oldhamchronicle or messaging us through our Facebook page. All contact will be treated in confidence.