'Toddle for Teddy' helps raise vital funds for The Royal Oldham Hospital's NICU Ward
Date published: 24 February 2020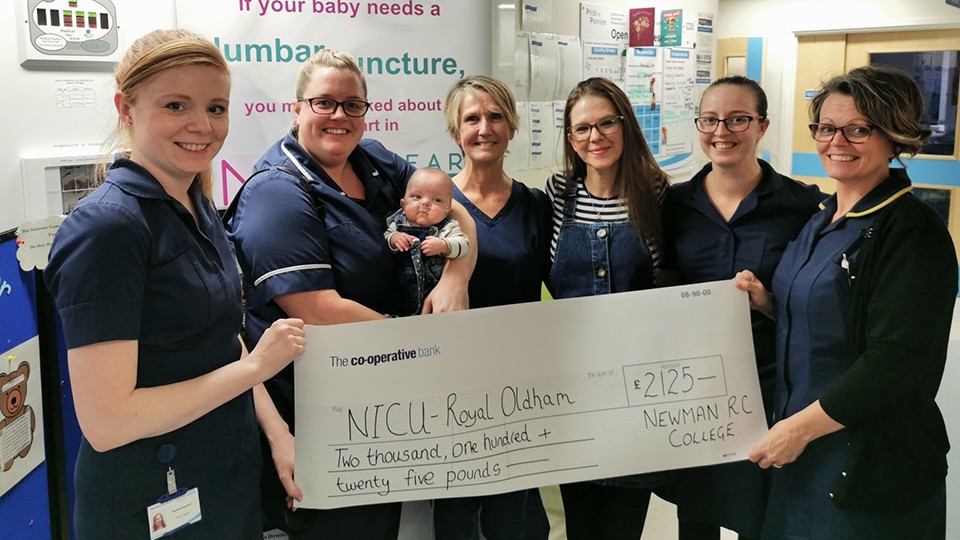 Toddle for Teddy Cheque Presentation for NICU
The family and friends of a set of premature twins born at The Royal Oldham Hospital have helped raise vital funds for the hospital's neonatal unit.
The NICU team were thrilled to receive a visit from the family and a cheque for a fantastic £2,125.
The funds were raised by staff and students at Newman RC College in Chadderton whilst the family were in hospital following the birth of their premature twins Teddy and Tilly with lots of activities including a 'Toddle for Teddy' sponsored walk.
Parents Ian and Emma Worsley both work at Newman RC College and staff and students at the college wanted to show their support for the family by fundraising for the NICU unit at Oldham.
The twins, Teddy and Tilly, were born to parents Ian and Emma in August 2019, over 13 weeks premature.
Dad Ian explains: "Tilly and Teddy were born in August, over 13 weeks premature. The waters around Tilly ruptured after just 20 weeks and the doctors said there was no chance that the twins would survive if they were born so early. The aim was to reach 24 weeks so that they at least stood a chance.
"After spending a great deal of the next 6 weeks in hospital, Emma went into labour, and it was quickly decided that an emergency caesarean section was the safest thing to do for her and the twins.
"Tilly came first, and then just 2 minutes later Teddy was born. They were both taken away by the NICU doctors and needed a lot of treatment because they were born so early. Unfortunately, because Emma's waters had broken for so long, Tilly's lungs hadn't developed fully, and she was only with us for 2 days.
"Teddy spent the next 4 months on the Neonatal Unit at Oldham Hospital. For the first 6 weeks, he needed a ventilator to breathe for him and spent another 2 months on different breathing support machines.
"He had a life-threatening bleed on his lungs when he was 2 days old. Then, at 3 weeks he had a serious stomach infection that doctors thought would require surgery. He spent 3 weeks on 4 different antibiotics to treat the condition and thankfully didn't need any surgery. When he was 3 months old, he then contracted another infection which meant he had to be put back on a ventilator so that his body could fight the infection.
"Teddy finally came home in early December, but he still needs a small oxygen supply to help him breathe. His lungs are getting bigger and healthier every day and we hope it won't be too long before the amount he needs is reduced, and eventually, he will breathe without any support for the first time.
"We will always be grateful for everything the staff of NICU have done for us all over the 4 months we were on the unit and for all the money our 'Newman Family' have raised to thank NICU for all they did for us, and in memory of Tilly."
The family visited the NICU ward to say thanks to staff and to present a cheque for £2,125 and the ward staff were truly overwhelmed, but also thrilled to see Teddy, who is getting bigger and stronger by the day.
Rachel Winn, Unit Manager for the NICU Ward, said: "We can't thank the Worsley family and their friends enough for their fundraising efforts for The Royal Oldham neonatal unit. Every donation really does make a big difference to the care we can provide for families."
---
Do you have a story for us? Want to tell us about something going on in and around Oldham? Let us know by emailing news@oldham-chronicle.co.uk , calling our Oldham-based newsroom on 0161 633 2121 , tweeting us @oldhamchronicle or messaging us through our Facebook page. All contact will be treated in confidence.