Oldham's COVID-hub is one of the first in the country
Reporter: Grace Marner
Date published: 31 March 2020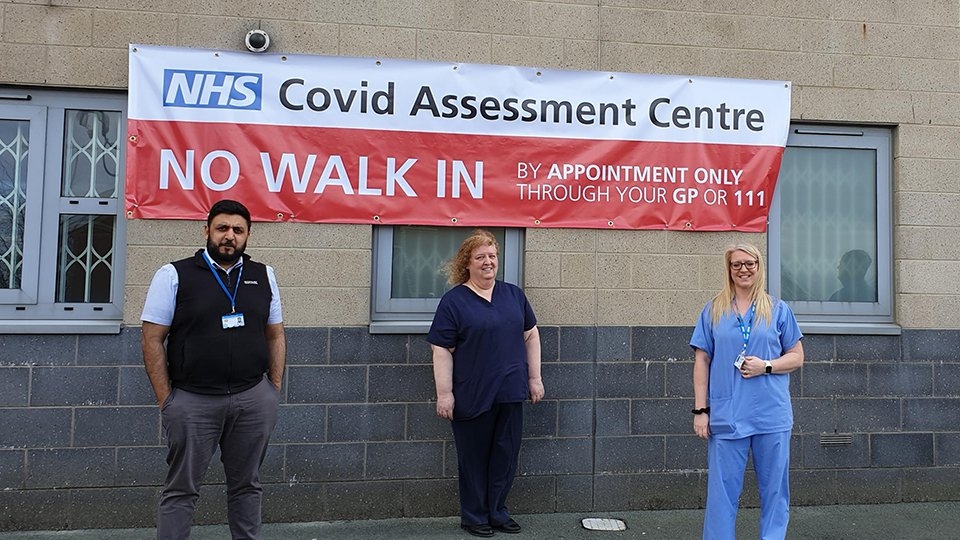 The ICC in Oldham will now house a new COVID Assessment Hub
The ICC building in Oldham has seen a bit of a change this week as the walk-in centre closes its doors and the Covid Assessment Centre opens theirs.
The ICC building is still open and the practices in there can still be accessed.
Dr John Patterson is Oldham's Chief Clinical Officer. He said they've been working incredibly hard to repurpose on of the old clinics in the building:
"We've worked really hard in the last 5 days ripping out the carpets, getting it all deep cleaned, getting new vinyl in - and we've now built a community COVID hub which is one of the first in the country.
"We now need to consider almost all clinical areas to be high risk now because this infection can be passed on before symptoms arrive, people can be seen in a clinical room and infect people without even knowing it.
"We're asking GPs to close their doors but not close completely and many patients are using phone, video consulting and online services in order to get help. We believe it's the safest thing to do right now at this stage in the pandemic.
"The main reason we made this decision was patient safety."
He added that the changes have actually decreased waiting time for patients to see the doctor of their choice.
"The other thing is that we do not want to breach the NHS ICU capacity.
"We only have so many ventilators, we only have so many people that can run those ventilators and all the time that number is increasing.
"We will have enough but we absolutely have to stop the NHS overheating so that's why everyone is playing their part and self-isolating.
"My colleagues in general practice have doubled down and tried to open up access for the people of Oldham so they can get seen in a safe way and that way we leave the hospital for the really really sick people that are going to come in the next few weeks.
The new hub is a place for people who have coronavirus but are still relatively well so don't need emergency care at the hospital. Dr Patterson said that around 80% of people will have little to no symptoms but will still want help and guidance. This is for them.
"This is very much for the whole of Oldham. There will be some hospital staff working there. We'll be using hspital equipment as well as using primary care equipment."
The service is appointment only. You can get an appointment by calling the NHS 111 line but the main way is to phone your GP.
Dr Patterson said he's already helped lots of patients who have had a temperature or a dry cough:
"Last week I had several patients who had temperatures and coughs but by the time we'd seen each other on the video screen, most of the time we worked out it was nothing worse than their lung condition playing up or they had a water infection which is why they had a temperature or there was something else going on - I was able to help them as a GP so they wouldn't have had to go to this Covid centre.
"There's so much that your GP practice can for you at the moment that that's where you should be but if the GP practice thinks that you need to be seen in the centre then they will book it for you.
"Of course every time we unexpectedly find a Covid infection or a healthcare worker gets infected with it then that shuts down that unit for a while so this is our best chance of keeping all the GP practices open for as long as possible.
"Also we do need to protect the most vulnerable among us - and the less people that get this infection, the less we mix then the less the most vulnerable among us risk of getting the serious infection."
Patients are being triaged remotely before face-to-face appointments. This means the practice will want to speak with you before you attend.
---
Do you have a story for us? Want to tell us about something going on in and around Oldham? Let us know by emailing news@oldham-chronicle.co.uk , calling our Oldham-based newsroom on 0161 633 2121 , tweeting us @oldhamchronicle or messaging us through our Facebook page. All contact will be treated in confidence.