War on fly-tipping goes on across Saddleworth
Reporter: Ken Bennett
Date published: 22 June 2020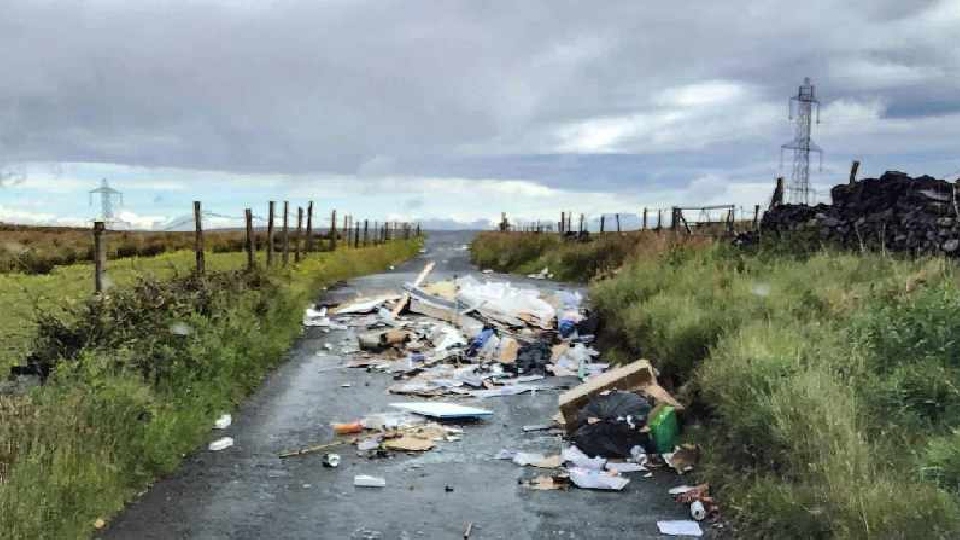 A route was blocked by rubble and rubbish at High Lee Lane in Delph
A damning rash of illegal fly-tipping across pretty settings is causing outrage among Saddleworth villagers.
And quick-acting Oldham Council have gone to war to combat the rising tide of illegal dumping which, in several cases, is focused on several leafy laybys and strategic lanes on the edge of the community.
In one incident a frightened horse received leg injuries and its female owner was unseated when they were trying to navigate a path through mounds of rubbish which had completely blocked a lane in Delph.
And a parking area alongside the main A62 Oldham to Huddersfield Road near Scouthead has been hit with a regular spate of fly-tipping.
Said a local: "The layby can't be seen from the main road due to trees, which makes it an easy target.
"The council do a marvellous job and shift the rubbish very quickly, but it just should not happen.
"It's a real blot on our countryside and can give visitors the impression we just don't care, which, of course, is totally untrue.
"These fly-tippers have no sense of responsibility or the upset they cause when people see them turning the outskirts of our villages into slums. It's shameful."
The injured horse belonged to a 27-year-old front line nurse from Saddleworth, who stopped to talk to walkers whose path had been blocked by the rubble at High Lee Lane, Delph.
The nurse, who did not want to named, said: "The road was completely blocked and was unsafe for us to pass.
"We were talking about the mess while the walkers were on the ground trying to find an address amongst the rubble.
"The wind picked up and blew some of the rubble in our direction which frightened my horse.
"She spun around in panic, slipped and fell over backwards into the rubble with myself still on her back.
"The rubble was full of broken glass, broken pottery from sanitary works including sinks, toilets and tiles, sharp metal work and nails sticking out of wooden planks.
"My horse was petrified and covered in wounds which required immediate medical attention by an on call emergency vet.
"I had to arrange for immediate transport to take us back home to the stables in order for the wounds to examined.
"It was not safe to ride back home with the state that the wounds."
An Oldham council spokesperson said fly-tipping offences are where the person admits the offence.
"Duty of Care offences are where it's the persons waste and they can't explain how their waste was found fly-tipped, or have said they have paid someone to remove it and can't provide the details," she explained.
"Litter prosecutions are for people who haven't paid the Fixed Penalty Notice issued to them and the majority of these are ones that were issued for black bags, but may include some smaller items of litter.
"Black bag Fixed Penalty Notices are where there has been evidence in only one or two bags and therefore we would class it as litter rather than fly-tipping. Fines are now £100 reduced to £70.
"We introduced the use of the Fixed Penalty for fly-tipping and Duty of Care Offences towards the end of the last financial year, in line with the changes to national legislation which allowed this.
"This increased the fine levels to £400, reduced to £280 if paid within 10 days."
She added: "However, all court proceedings have been suspended due to the COVID-19 pandemic, but all investigations are still being pursued and summons being issued ready for when court hearings resume.
"There are numerous ongoing investigations, as well as pending hearings awaiting the reopening of the courts.
From April 1 - June 7 this year:
Fly-tipping/Duty of Care prosecutions - N/A
Litter prosecutions - N/A
Fly-tipping Fixed Penalty Notice - 9
Duty of Care Fixed Penalty Notice - 15
Black bag Fixed Penalty Notice - 23
Litter Fixed Penalty - 0
Last year from April 1, 2019 until March 31 this year:
Fly-tipping/Duty of Care prosecutions - 57
Litter prosecutions - 71
Fly-tipping Fixed Penalty Notice - 43
Duty of Care Fixed Penalty Notice - 98
Black bag Fixed Penalty Notice - 364
Litter Fixed Penalty - 152
---
Do you have a story for us? Want to tell us about something going on in and around Oldham? Let us know by emailing news@oldham-chronicle.co.uk , calling our Oldham-based newsroom on 0161 633 2121 , tweeting us @oldhamchronicle or messaging us through our Facebook page. All contact will be treated in confidence.