Betsy says 'covid is still real' as she returns to the classroom and mum returns to work following COVID-19 diagnosis
Date published: 11 September 2020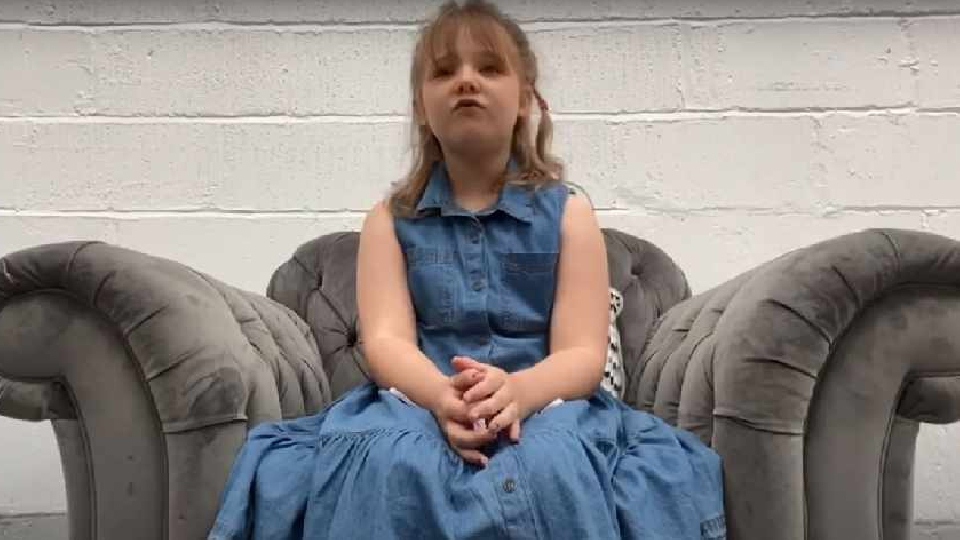 Betsy Sutcliffe, from Moorside, is fronting the 'It's in Our Hands' campaign
Scroll down for Video
A primary school pupil preparing to head back to the classroom has spoken out about the need for people to maintain social distancing, wear a mask and keep washing their hands to keep NHS staff, patients and communities safe.
Betsy Sutcliffe, aged seven, from Moorside, is fronting the 'It's in Our Hands' campaign launched by Northern Care Alliance NHS Group, which has seen young people across Oldham, Bury, Rochdale and Salford record messages to emphasise the importance of continuing to follow infection prevention and control guidance.
Watch the video of Betsy on the NCA YouTube channel below.
Her determination and passion for communicating the important safety message comes after mum, Tammy Sutcliffe, a Directorate Manager for the Royal Oldham Hospital which is part of the NCA Group, spent six days in the Acute Medical Unit being treated for Covid-19.
Betsy said: "My mummy had to go into hospital because she had Covid.
"I missed her so much, and me and my daddy didn't know when she would come home, so it was very worrying.
"She's gone back to work now, but Covid is still real.
"People should still wash their hands, wear a mask and social distance to help protect my mummy, her patients and everyone else.
"Please follow the rules and keep everyone safe. It's in our hands."
As the child of an NHS key worker, the brave youngster attended school during the peak of the pandemic and after following the Covid-19 rules put in place by teaching staff at Christ Church Denshaw Primary to the letter, Betsy was awarded a prize for her efforts.
Mum Tammy, Directorate Manager for Trauma Orthopaedics and Vascular at the Royal Oldham Hospital, said: "Betsy has been an absolute superstar during what has been an incredibly tough time for us as a family, but her response to the rules around protecting each other from Covid has really blown us away.
"We are a very open family and didn't keep anything from her when I was poorly, but she completely took it in her stride, staying strong and setting the example that some adults seem to be struggling with."
Recalling her experience of the virus, which she contracted in April, Tammy described her sudden decline and the eventual realisation that she would need to be admitted for treatment to her usual place of work.
She said: "I'd been feeling poorly for a few days at home with crippling headaches, gastric pain, a high temperature and finally a cough.
"It was at that point I realised it was probably Covid.
"I suffer with asthma and as my symptoms got worse and worse, I realised that I was probably going to need to be admitted and on arrival at hospital my oxygen levels were very low."
Unable to enter the hospital due to the Covid restrictions on visiting, Tammy's husband Craig Sutcliffe dropped her off at the doors to A&E where she was assessed and then admitted.
She added: "It was a hugely emotional experience, and as I closed the car door and hobbled into A&E in my pyjamas, I honestly didn't know what was going to happen next.
"My breathing was shallow, the pain and temperature had become unbearable and I was saying goodbye to my husband and daughter, not knowing when I would see them again.
"It sounds quite dramatic but I was genuinely frightened at that point, it was really upsetting."
After almost a week as an inpatient, Tammy was thankfully well enough to be discharged back home to continue her recovery.
"After her successful recuperation, she was pleased to return to work and is now back to full speed operating in often intense and high pressured situations.
She added: "I was lucky, I have made a full recovery and I'm so happy to be back at work and for us to have come through this as a family.
"The long lasting effects of Covid-19 have been talked about a lot and having experienced the after effects, I would simply echo what Betsy has said, which is that Covid is still real.
"Anyone can catch it, anyone can pass it on, and anyone can be affected by it.
"We all need to be vigilant, we need to look after each other, our families and our patients, let's stay safe and secure by washing our hands, wearing a mask and staying socially distant.
"It's most definitely in our hands."
---
Do you have a story for us? Want to tell us about something going on in and around Oldham? Let us know by emailing news@oldham-chronicle.co.uk , calling our Oldham-based newsroom on 0161 633 2121 , tweeting us @oldhamchronicle or messaging us through our Facebook page. All contact will be treated in confidence.
Betsy Sutcliffe, from Moorside, is fronting the 'It's in Our Hands' campaign