New child poverty data reveals true extent of levelling up the challenge
Date published: 13 October 2020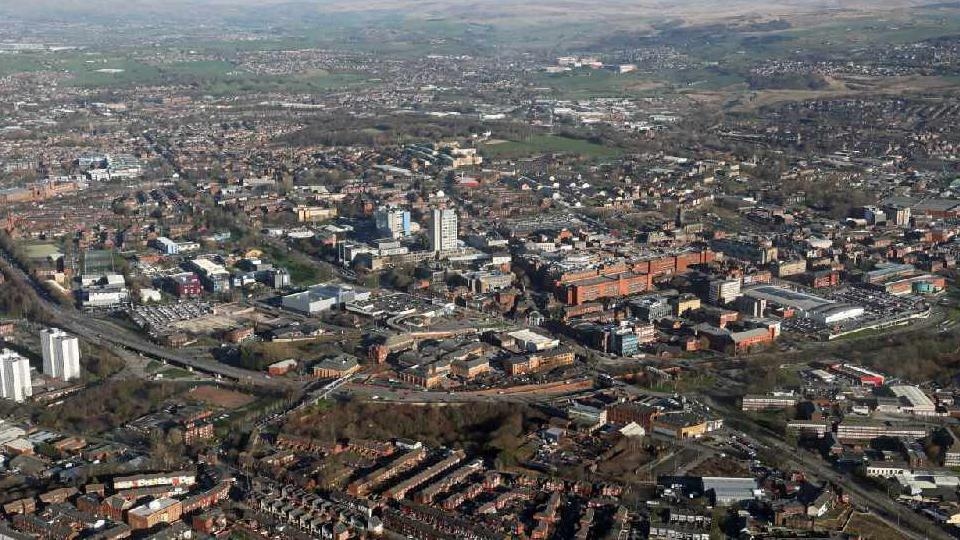 Oldham has experienced the second-biggest percentage point increases in child poverty between 2015 and 2019
Child poverty levels across the North West have risen in almost every local area in the past four years, according to research published today by the End Child Poverty coalition.
The data shows the scale of the challenge faced by government if it is to realise its ambition to build back better and level up opportunities for children across the UK.
The research by Loughborough University shows that, even before the pandemic, in some parts of the North West four in ten children were growing up in poverty, once housing costs are taken into account.
The 10 areas to experience the biggest percentage point increases in child poverty between 2015 and 2019 are:
· Blackburn with Darwen with 8.2% from 30.9 to 39.1
· Oldham with 8.1% from 31.8 to 39.9
· Pendle with 7.8% from 31.0 to 38.8
· Manchester with 7% from 33.6 to 40.6
· Burnley with 6.5% from 31.8 to 38.4
· Hyndburn with 6.5% from 31.9 to 38.4
· Bolton with 6.3% from 32.7 to 39.0
· Rochdale with 5.3% from 32.4 to 37.7
In the past, low incomes in some areas were counteracted by cheaper housing costs, but in the last five years rents have continued to rise across England.
It means for many families, once their housing costs are paid, they do not have enough money to meet their children's needs and are left no option but to turn to crisis help, like food banks, and are increasingly reliant on free school meals.
Sam Royston, Director of Policy at The Children's Society, said: "This data is so shocking, it shows that over the last five years thousands of children across the North West have been pulled into poverty in part because of unmanageable increases in rental costs.
"That is thousands more children living in households where parents struggle to make ends meet.
"This was the picture before the devastating impact of the coronavirus crisis, which we know has hit low income families particularly hard.
"Children are deeply affected by poverty; they are more likely to experience poorer physical and mental health; do less well in school; and have fewer opportunities in the future.
"The government needs a clear strategy to end child poverty, providing Free School Meals to all children in families receiving Universal Credit would be a big step in the right direction."
The End Child Poverty coalition is calling on the Government to recognise the scale of the problem and its impact on children's lives.
They are urging the Government to set out an ambitious plan to tackle child poverty encompassing not only social security spending but the high cost of housing and childcare and investment in children's services.
The report is based on data published by the Department for Work and Pensions in March, 2020, and on estimates of the effect of housing costs on poverty rates produced by the Centre for Research in Social Policy at Loughborough University, based on survey evidence.
Earlier this year, Boris Johnson was rebuked by the statistics watchdog for his repeated misuse of child poverty statistics.
The Statistics Authority upheld a complaint from the End Child Poverty coalition judging that on three separate occasions his statements on child poverty were 'incorrect'.
Anna Feuchtwang, Chair of End Child Poverty which commissioned the research, said: "The Government can be in no doubt about the challenge it faces if it is serious about 'levelling up' disadvantaged parts of the country.
"This new data reveals the true extent of the hardship experienced by families on low incomes – the overwhelming majority of which were working households before the pandemic.
"The children affected are on a cliff edge, and the pandemic will only sweep them further into danger.
"The Prime Minister must urgently admit to the true extent of child poverty in our country rather than resorting to his own inaccurate statistics.
"An ambitious plan to put this shameful situation right would be transformational for millions of children.
"As a matter of urgency we are calling on the Chancellor not to go ahead with planned cuts to Universal Credit which would see families lose out on £1000 a year.
"Given today's data, this cut is unconscionable."
End Child Poverty is calling for an urgent Government plan to end child poverty including
· Uprating of housing assistance in line with inflation;
· Retain the £20 uplift in Universal Credit introduced at the start of the pandemic, which the Government has indicated will end in April 2021;
· End the benefit cap and the two-child limit on benefits;
· Invest in all children with an increase to child benefit
· Extend Free School Meals to all families in receipt of Universal Credit and those with No Recourse to Public Funds
The full report 'Local indicators of child poverty after housing costs, 2018/19', as well as tables with local data, are available at: www.endchildpoverty.org.uk
---
Do you have a story for us? Want to tell us about something going on in and around Oldham? Let us know by emailing news@oldham-chronicle.co.uk , calling our Oldham-based newsroom on 0161 633 2121 , tweeting us @oldhamchronicle or messaging us through our Facebook page. All contact will be treated in confidence.