Knife metal detector launched at Oldham Metrolink station
Reporter: Ken Bennett
Date published: 28 October 2020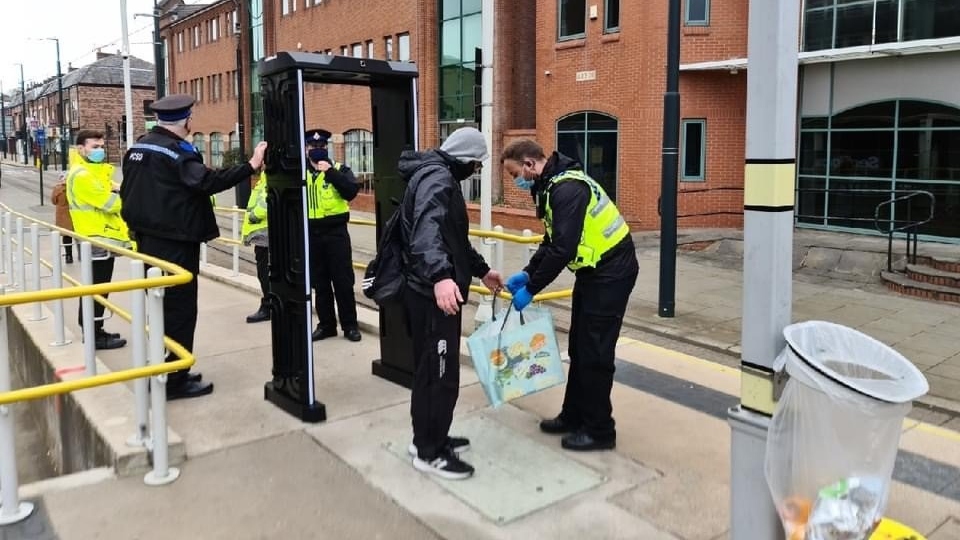 The new detector has been launched in conjunction with Transport for Greater Manchester.
Oldham police officers, working in conjunction with TfGM, set up a knife arch metal detector at Oldham Central Metrolink station.
Inspector Steve Prescott, neighbourhood Inspector for Oldham Town Centre, St Marys, Waterhead and St James wards, said the arch was deployed in an effort to prevent and reduce crime on the Metrolink network.
He said: "Knife arches are often set up in the entrance to stations and are effectively metal detectors, helping officers identify if any passengers are carrying weapons.
"The public are not forced to walk through the knife arch, but anyone seen actively avoiding the knife arch or committing a "turnaround" may well be subjected to a stop and search."
He added: "These operations not only deter crime and antisocial behaviour, they demonstrate the work of the TravelSafe Partnership and our proactive approach to keeping public transport and passengers safe."
If you have concerns about someone you know or care about who is carrying or hiding a knife, please call Police on 101 or talk to GMP via LiveChat at www.gmp.police.uk