It's The biggest buzz in town!
Reporter: Simon Smedley
Date published: 25 July 2017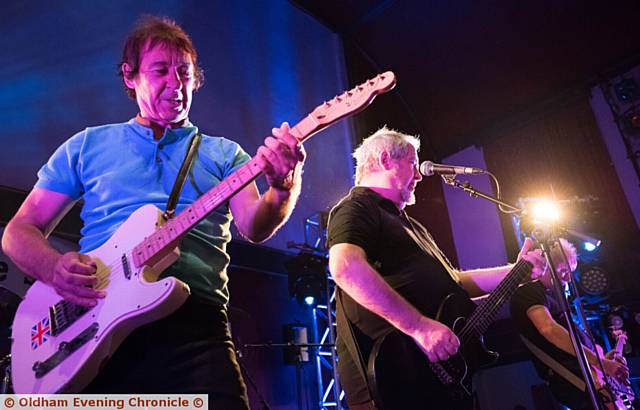 Photo: Darren Robinson
Buzzcocks play live at Uppermill Civic Hall. PIC shows L-R: Steve Diggle and Pete Shelley.
Review: THE BUZZCOCKS

Uppermill Civic Hall

I REMEMBER around 12 months ago, promoter and current Uppermill main music man Tim Simpson telling me on the quiet that he was trying to get the legendary Buzzcocks to come and play at the Civic Hall.

I recall raising an eyebrow and going away from my good friend's house excited ­- I was quietly confident that PoP Up boss Tim would deliver.

Well, on Friday night, at a jam-packed Civic Hall, former Chaddertonian Steve Diggle, Pete Shelley and the rest of the current Buzzcocks line-up certainly did that ­- and then some.

A roaring success this latest promotion most definitely was, as Diggle, Shelley and co banged out supercharged tune after supercharged tune at the cracking and atmospheric near 400-capacity venue.

The crowd ­- it had sold-out of 20-odd quid a pop tickets well in advance ­- positively lapped it up, and must have all gone away into the rain-sodden night knowing that they had just seen proper value for money.

I've been a fan of the Buzzcocks since the days when we used to bunk off Radclyffe School in the late 70s to go and listen to the band's epic early vinyls at my pal's gaff on Foxdenton Lane.

I've seen them play numerous times since, though when I saw them at Manchester's Albert Hall last October I figured an at-times laboured performance that night (ref: my review in the Chronicle at the time) meant maybe it was almost time for the now 62-year-old Diggle and Shelley to consider calling it a day.

Wind on nine months and I'd probably take that sentiment back.

The Buzzcocks ­- with Danny Farrant now on drums and Chris Remington on bass ­- turned it right on in Uppermill and proved that there's life in the old dogs yet.

Diggle clearly still loves being up there on stage ­- winding his guitar round and having the proper craic with the fired-up audience ­- while Shelley's vocals and so casual leadership up there simply oozes some kind of post-punk class that draws frenzied hero worship almost from the punters nearest the front of the pumped-up throng.

It was clear from the moment "Boredom" got the nod as the opening tune that this gig was going to be pretty special.

All the classics followed in the next hour-and-a-half ­- including my faves "Orgasm Addict", "Love You More", "Promises" and "Why Can't I Touch It?' ­- while the crowd almost flipped during the encore when "Harmony In My Head" and the omnipresent "Ever Fallen In Love" were given the treatment.

Important

I've heard one or two people since decrying the sound system inside the famous old venue, but it didn't spoil my party, and the vast majority of everyone else's inside there.

This was one of those nights you just had to be there to appreciate just how important the Buzzcocks really are, and how important they will have been once all this is finally over.

PoP Up's next promotion is this Friday ­- again at Uppermill Civic Hall when the magnificent Manchester Ska Foundation will share top billing with top northern soul DJs, the Twisted Sisters. A few tickets ­- priced £10 ­- are still available.