Grange Ayckbourn an all-round hit
Reporter: Paul Genty
Date published: 20 February 2012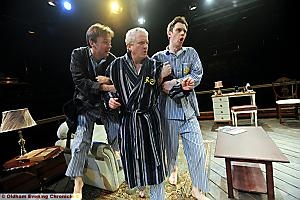 Antony Eden (Tristam, left), John McAndrew (Roland) and Ben Porter (Mark, right) in a spot of pyjama bother in Taking Steps
Scroll down for Video
TAKING STEPS, Coliseum at Grange Arts Centre, to March 10

IT is easily well over a decade since I last reviewed a show at Grange Arts Centre, and it's a racing certainty it wasn't anything like as enjoyable as this Coliseum-in-exile first outing there.

The background to this production may be familiar: Grange was one of the places writer and director Alan Ayckbourn's original Scarborough production played on a long tour in 1980, when current director, Robin Herford, was a member of the cast.

Since then Robin has become a highly-respected director and a regular Coliseum guest.

So there was probably little in the way of second thoughts about revisiting the play at Grange — partly because for the first time, a Coliseum production could be staged, like the original, with the audience on all four sides.

Taking Steps is one of Ayckbourn's cheerier plays, but while the story is pretty slight — wealthy bore wants to buy a big, crumbling house for his wife, not realising she wants out; meanwhile her brother is having problems with his girlfriend — it's a play that demonstrates Ayckbourn's technical brilliance as much as any other element.

The action is on three floors of the old house, with mock "stairs" to mark passage from floor to floor, and furniture from all three rooms on the same set.

It's actually not as complicated as it sounds, for rarely is there much vertical reference between the characters, except perhaps for a knock or bump causing a look up or down. The production is very enjoyable though, and for a couple of excellent reasons.

For one, the play is impeccably cast. There's a Barrie Foster-like alcoholic condescension from John McAndrew as the man of the house and a Ronnie Barker-ish wiliness from Martin Miller as the vendor.

Ben Porter is energetically dull as crashing bore Mark and Antony Eden gives the performance of the night as diffident, tongue-tied lawyer Tristram — not forgetting Jackie Morrison as the trapped wife and Maeve Larkin as Kitty, who spends much of the evening shut in a cupboard.

Second, this isn't by any means a flashy evening at the theatre: the enjoyment is derived from watching a cast drilled to precise comic timing in a show of great directorial detail and thoughtfulness — exactly what it needs to help an audience overcome the bum-numbing awfulness of Grange's seats.

If the Coliseum keeps on at this rate (Snookered was just as good, in a different way), by autumn we'll be wondering if they shouldn't stay away from the old theatre for a bit longer...