Ryder and Dutton swoops to acquire Mortimers
Date published: 13 February 2018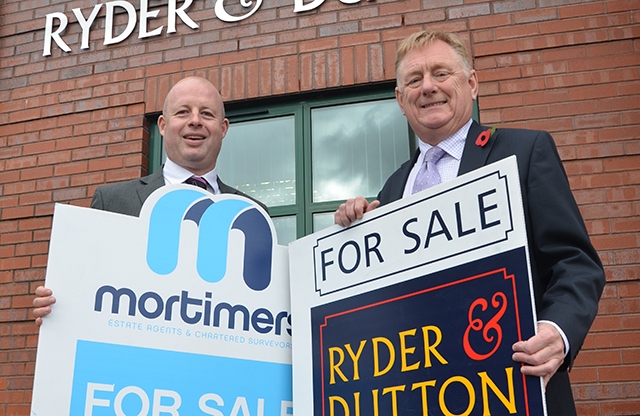 Ryder and Dutton have tied up a deal to acquire Mortimers
Award-winning estate agency Ryder & Dutton has acquired Mortimers Estate Agents, a long-established Lancashire agency based in the Ribble Valley and Blackburn area.
Ryder and Dutton, which has its head office is at Salmon Field Business Village, Royton, said Mortimers is a well-respected brand with offices in Clitheroe, Blackburn, Whalley, Accrington and Great Harwood, and a specialist fine and country property office covering the Ribble Valley.
The developments mean the combined business will be one of the largest in the north of the country with a 26-office network covering large parts of Lancashire, Greater Manchester, West Yorkshire and north Derbyshire.
The latest expansion follows Ryder & Dutton's acquisition of Eley Long and Co and Hazeldene Estates in 2015 and the recent opening of a new Colne Valley Ryder & Dutton branch in Linthwaite, Huddersfield, in October 2017.
Whilst initially the Ryder & Dutton and Mortimers businesses were too far apart geographically, the previous acquisition of Eley Long in Rossendale brought the two businesses closer together.
Richard Powell, a director at Ryder & Dutton said: "This is a very exciting opportunity for the directors and staff to create a business well-placed to deal with the challenges of the estate agency sector in the 21st century. It brings together new technology and communication methods with traditional local knowledge and customer care, professionalism and high ethical values.
"Ryder & Dutton and Mortimers were already well known to each other as members of the national Relocation Agent Network, and there was much synergy between the two businesses' management approach and values.
"Whilst being integrated technologically with Ryder & Dutton, Mortimers will continue trading under the same brand name it has established in Lancashire. The two firms will both provide the same 8.30am to 8.30pm service offered by Ryder & Dutton by using Ryder & Dutton's branch support team based at Salmon Fields Business Village."
As part of the acquirement, Ian Lloyd of Mortimers retired after 47 years of service, while Edward Snowden will be welcomed onto the board of directors at Ryder & Dutton.
John Kenyon MRICS has been with Mortimers for over 30 years and will remain to concentrate solely on the Fine and Country brand based at the Whalley office. He will focus on the very popular Ribble Valley area and seek opportunities to extend the coverage of the high quality brand.
Mortimers was established in 1934 and was formerly Mortimer Gorse and Ross. The agency is one of the most highly respected in east Lancashire.
With its network of five offices, it has a strong market share and offers everything from first-time-buyer homes to the most prestigious residencies. It prides itself on staff expertise and knowledge, and recognises the value of professional qualifications in an industry where these are not compulsory.
Mr Powell added: "Mortimers will also join in the successful Auction House Manchester operation run by Ryder & Dutton. This provides an alternative method of sale for both residential and commercial property.
"The two businesses will also continue providing both commercial property valuations and agency services over the new, wider operating area, together with residential surveys and specialist land and new homes sales. A new instruction to sell new homes in Ribchester is already secured."
"The Mortimers brand will also be extended with the recently established connection with Wright Marshall for the sale of antiques, chattels and fine arts.
"The estate agency sector is changing and it is important for clients to be able to communicate with the agent whenever and however they choose," he said.
"Ryder & Dutton and Mortimers firmly believe that good local knowledge together with well trained, experienced and qualified staff will be important in ensuring clients achieve the best possible prices the market will allow, while at the same time offering clear, transparent fees paid only for success rather than for simply listing properties for sale."
Furthermore Richard said the two firms would soon be jointly operating one on the best estate agency software platforms available.
This will enable clients and prospective buyers to book appointments online, tenants to report faults or maintenance issues online, and 24-7 live 'chat' communication channels.
The service will also offer instant online valuations, within certain parameters, and online trackers for sellers, buyers, landlords and tenants to see exactly what is happening with their property at any time. This will include viewing feedback, statements of account and progress with applications.
The Mortimers website has been redeveloped in a style similar to Ryder & Dutton and the two websites will soon be interlinked. Clients will be able to enter details directly into the customer relationship management system, if desired.
All residential properties for sale or to let will be available on Rightmove and On the Market, which can be a quicker, less cluttered process, and Commercial properties will be added to the Rightmove commercial platform, said Richard.
Ryder & Dutton was named Best Large Estate Agency in the UK Negotiator Awards of 2014, 2015 and 2016, and Employer of the Year at the 2017 Oldham Business Awards.