Fineline continues expansion
Date published: 19 February 2018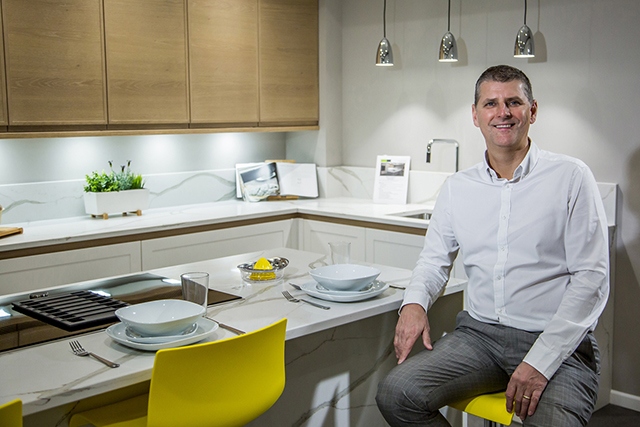 Mike Jackson, managing director of Fineline Interiors, at the new Warrington showroom.
A multiple award-winning Oldham furniture manufacturer and retailer has created new jobs and investment by opening its' third showroom in the north-west.
Fineline Interiors designs, which manufactures and installs kitchens, bedrooms and home studios, and has opened a new showroom at Gemini Retail Park in Warrington.
The 5,500 sq ft Warrington site was formerly a Betta Living showroom, but became available after the previous occupier went into administration last year.
Fineline Interiors, founded in 1986, operates two other north-west showrooms at Littleborough and Oldham.
The Oldham base at Waddington Street, Chadderton, is also home to the company's head office and manufacturing site, which has also seen investment in equipment to serve all three regional showrooms.
Fineline currently has 25 staff in roles including design, surveying, manufacturing, showrooms and logistics. It also works with a further 15 installers and contractors across the north west.
Mike Jackson, Fineline managing director, said: "We moved into the new Warrington site earlier this year and undertook a programme of redevelopment work.
"The showroom was recently opened to the public and it features a bespoke collection of 11 kitchens, nine bedrooms and offices displays.
"So far, we have appointed five staff at Warrington including a design manager, a designer, a surveyor and two demonstrators."
He added: "In the past, Fineline had a showroom in Nantwich and Cheshire remains important for business. We had searched for a new Cheshire showroom for two years and Gemini Retail Park at Warrington is a good position.
"It's located between Manchester and Liverpool, near the M62 motorway and close to other retailers including IKEA, M&S and Toys 'R' Us.
"The new Warrington showroom is going well. We have held cookery demonstrations with appliance manufacturer NEFF and customers are travelling from a wide area including Manchester city centre and Cheshire. We have the hit the ground running and have received really good feedback."
Jackson (52) grew up in Chadderton and attended North Chadderton High School. He took an apprenticeship with a joinery firm then set up his own business aged 21 when the fitted kitchen industry was still in its infancy.
His business was first based in Royton but has been at its' current Chadderton site since the mid-1990s. Jackson now lives in Greenfield, Saddleworth.
Fineline offers appliances, fixtures and fittings by brands including NEFF, Blanco, Second Nature, Biography, Alchemy 1909 and Corian, plus Aspire, Aspect and Glide doors made by Oldham furniture components manufacturer and distributor HPP.
The Warrington expansion comes at the end of another year of success for Fineline.
It was named 2017 NEFF Master Partner of the Year at a national industry awards ceremony in London.
The national award highlights Fineline's contribution to the success of the NEFF brand through loyalty, expertise and dedication, said Mr Jackson.
Fineline staff have attended training courses and taken innovative steps in using NEFF appliances online and in showrooms. In addition Fineline was a finalist for the Best Design Over £25,000 category at the same national awards.
In recent years, Fineline has received two Real Kitchen of the Month awards from the Second Nature brand in 2016 and 2015.
Fineline was also a finalist in two categories of the 2016 Oldham Business Awards - Employer of the Year and Business of the Year.