Oldham Business Awards bash is sold out
Date published: 12 April 2018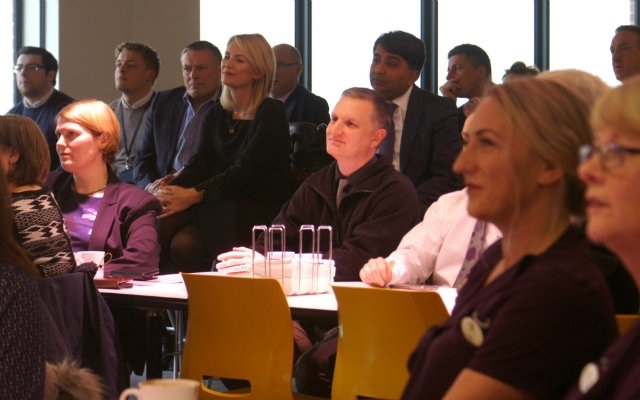 Oldham Business Awards category sponsors and finalists attended a reception hosted by Innovation Technology recently
The tenth anniversary 2018 Oldham Business Awards ceremony at the Queen Elizabeth Hall on Friday, May 11, has officially sold out.
All tickets - 56 tables will be full - have been snapped up well in advance for what promises to be a terrific celebration.
Dayna Patterson, steering committee member and Marketing Manager at Innovative Technology - one of the headline sponsors of the Oldham Business Awards - said: "The 2018 event will be a great celebration of business in Oldham.
"This year marks our tenth anniversary so it's going to be a very special night.
"The awards have become the main event in the Oldham Business community social calendar, and are wholly funded by private sponsorship and organised by a group of volunteers.
"With Rory Bremner as our MC, we're all in for a great night, then after the awards ceremony Revolution Radio are hosting an after-show party so guests can party into the small hours."
Judging panels, which include representatives of the category sponsors, reviewed all this year's business award entries at the start of the year before shortlisting three finalists for each of the ten categories.
Their decisions are shown below and congratulations go to all finalists.
A special recognition award will also be presented on the night.
TV impressionist Rory Bremner will bring his unique brand of humour to Queen Elizabeth Hall.
He has twice won the British Comedy Award for Top Male Performer plus the BAFTA Best Light Entertainment Award.
More information about the 2018 Oldham Business Awards can be found at the official website: oldhambusinessawards.co.uk
Supporting Young People
Sponsor Oldham College
Capita Translation and Interpreting
Channings Childcare
dsgnuk
Business of the Year [>£10m]
Sponsor KPMG
Diodes
Oldham Motor Company
Widdop and Co
Business of the Year [£5-10m]
Sponsor Pearsons
Gemini UPVC
J A Harrison & Co
Portculis Oldham
Business of the Year [£1m-£5m]
Sponsor Asian Business Leaders
Catalyst Claims
Linda Lewis Kitchens
Seftons Accountants
Business of the Year [<£1m]
Sponsor Seftons Accountants
Cornerstone Design & Marketing
Future Safety
Remedian IT Solutions
Business Person of the Year
Sponsor Oldham Athletic Football Club
Ansar Ali – dsgnuk
Frank Rothwell - Manchester Cabins
Maria Williams - Upturn
Employer of the Year
Sponsor Ultimate Products
Cornerstone Design & Marketing
Diodes
Oldham Chiropractic Clinic
Start Up
Sponsor Business Growth Hub
Assure Certification
The Secret Sip
Young Entrepreneur
Sponsor Oldham Enterprise Trust
Eric Bashyika - SW Clothing Co
Hayley Smith - Simply Skin
Jannatul Choudhury – Muzzini
Young Business
Sponsor Reward Finance
Corner House Cakes
Dream Big Sports
Old School Barbecue
Community Engagement
Sponsor Unity Partnership
Blue Tiffin Restaurant
Dale Bathrooms
Safeguard Fusion