HTF Transport expands fleet
Date published: 19 April 2018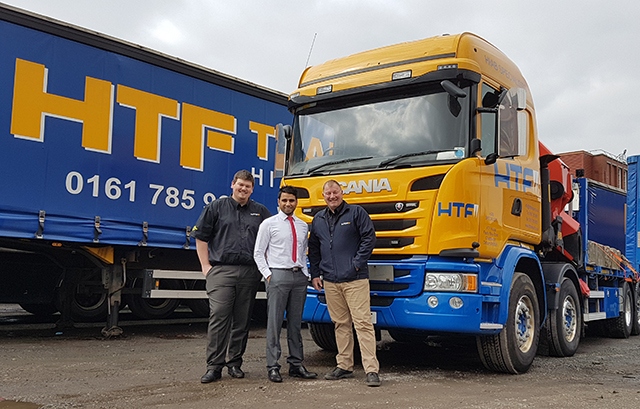 Oldham-based HTF Transport Ltd has expanded its fleet
Oldham-based HTF Transport Ltd, a leading haulage and logistics firm, has expanded its fleet with the purchase of a truck-mounted Palfinger Crane following a significant asset finance facility with Santander Business Banking.
The vehicle will allow HTF to support an increased number of clients with a broader range of transport solutions, in line with the company's UK growth strategy.
Established in 1989 by Dave Bromley and originally set up as 'D Bromley And Sons', HTF Transport has developed into a thriving family owned company, with a fleet of 16 vehicles overall.
Over the past 30 years, HTF Transport has become one of the leading HIAB crane transport companies in the UK.
The firm has worked on projects such as The Open Golf Championship and the emergency response required after Storm Desmond, and clients include Generator Power and Watkins Hire.
To fulfil strong client demand and seize further strategic growth opportunities across the UK, Santander has supported the company with the purchase of a Scania G490 vehicle with a Palfinger Crane.
The powerful lifting capacity of the new vehicle will result in further business and additional revenues in 2018.
Santander Asset Finance offers very competitive funding options for SMEs looking at alternative ways to invest for growth.
Its national network of accredited, experienced relationship directors has helped thousands of companies across the UK to buy everything from company vehicles to IT software, plant and machinery to complete production lines.
HTF Transport's Lance Bromley said: "Our business has gone from strength to strength and this new asset finance deal and the additional vehicle for our fleet reflects our optimism and aspirations to grow further.
"The support from Santander has been significant and we're excited about the new opportunities for us and our customers in 2018 and beyond."