LLK flying high thanks to record year of growth
Date published: 20 April 2018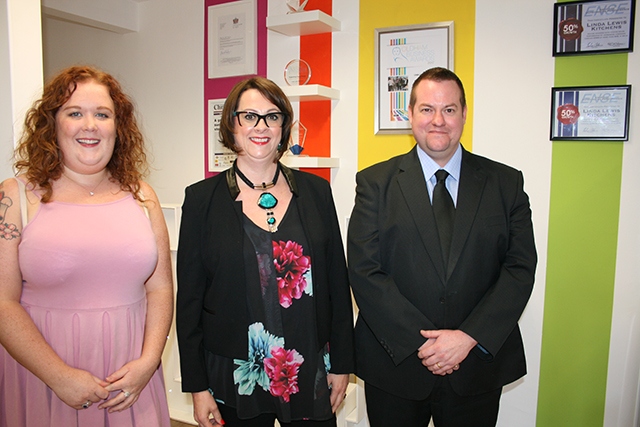 LLK Managing Director Linda Lewis is flanked by (left) Dealer Account Manager Natalie White and Financial Director, Joe Solomon
Oldham-based catering supplier Linda Lewis Kitchens (LLK) has reported record growth for the 2017/18 financial year.
The company has increased sales by 53.7%, smashing their £2.3million target.
The documented growth comes at an exciting time for the pizza equipment specialists, who have been shortlisted once again for an Oldham Business Award, this year in the Business of the Year £1-5million category.
In 2017, LLK won the Oldham Business Award for 'Supporting Young People', and are hoping for similar success this year.
LLK has experienced tremendous growth over the past year, which Managing Director Linda Lewis puts down to the brand's relationship with a trusted network of dealers and working closely with local businesses, such as Muse in Uppermill and The Rising Sun pub in Mossley.
In the last 12 months, LLK has developed a Service and Spares department, headed by Oldham-born Ryan King.
This department has been assisting many businesses in the local area, and since the appointment of King in June 2017, it has shown a 60% increase in sales.
LLK has generated a sourcing department that offers spares for all different types of catering equipment, not just LLK's specialist portfolio.
In 2016, LLK launched their fully operational demonstration kitchen at their headquarters in Oldham, which has proved to be extremely beneficial to dealers, as they have gained a greater understanding of LLK's portfolio which in turn has helped to secure long-term distribution deals.
Following this advancement, in 2017, LLK also recruited Development Chef Fabio, who can advise customers, from those who are looking to dip their toes into the world of pizza to those who require some guidance, specifically with what equipment is best suited to their establishment.
Fabio's expertise allows him to work closely with the dealer and their customer to ensure that they are building a successful pizza operation.
Managing Director Lewis said: "The demonstration kitchen has been instrumental in being able to support our dealers, not only with sales training, but also with securing long-term distribution deals.
"We have found that by opening our kitchen up to customers to effectively 'try before they buy', customers feel more confident to make a fully informed buying decision."
Linda Lewis Kitchens has recently added to its portfolio to ensure it is meeting the demands of its customers.
Natalie White, Dealer Account Manager, said: "At LLK we have a pizza oven for all occasions, whether it's needed for a takeaway, or a restaurant, or even for larger scale operations.
"In recent months we have added some new products to our portfolio to ensure we can offer all the latest innovations to make a customer's pizza concept a success."