A thoroughly Professional event
Date published: 24 April 2018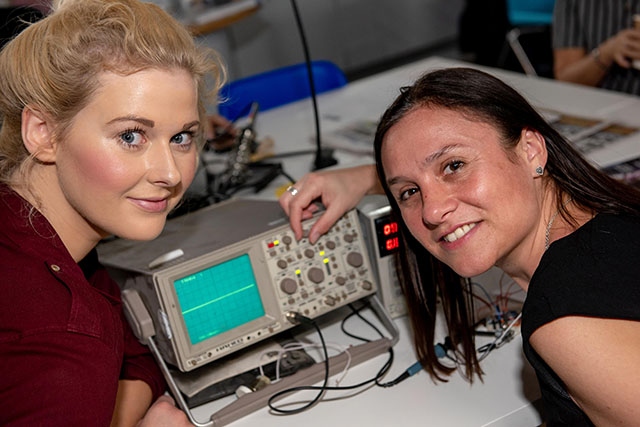 Natalie Buckle from BeeDrone and Vicky Beresford from Breakey & Nuttall at the Professional Oldham event
Business networking group Professional Oldham visited the town's new Digital Hub for an event with the Hack Oldham co-working organisation.
Hack Oldham is one of a number of organisations and businesses based at the Digital Hub, which opened in 2017 in the former Wahoo nightclub on Yorkshire Street.
The hub's main purpose is to help entrepreneurs launch and expand technology businesses, which will create more jobs and foster wider economic growth.
The redevelopment was part of a £1 million investment by Oldham Council to help smaller businesses develop in the town centre's Independent Quarter.
Hack Oldham operates the ground floor and basement while the upper floor includes Wayra UK's Open Future North office.
This is the northern branch of Wayra UK's national support network for technology firms, backed by the worldwide O2/Telefonica Group
Hack Oldham was founded in 2015 and is a community-owned co-working space, with desks, studio space and workshops.
Facilities include offices and training space, wi-fi, reprographics, craft and woodworking workshops, 3D printing, an electronics laboratory, a workshop and a micro-brewery.
During office hours, the ground floor is open to residents who pay a fixed monthly fee or visitors who can rent desk or studio space on an hourly or daily basis.
Professional Oldham volunteer Bridget Batty, of Limetree PR, welcomed guests and introduced Andy Powell, one of the Hack Oldham founders.
Bridget said: "Hack Oldham has very humble beginnings but has developed into a fantastic organisation. Its whole concept is very inspirational.
"I've got to know Andy in recent times and really admire what's being developed here."
Andy, who runs his own web business called Caffeinated Projects, explained the background to the group, which was first based in nearby Hardcastle Street.
He said: "We offer a wide range of activities through the day and evening.
"Most of us have day-jobs and help Hack Oldham in our spare time.
"We offer activities for both adults and children, from computer coding classes to crafts, textiles and games.
"These provide people with education, new skills, social opportunities and fun."
Hack member Tony Goacher, from Uppermill, demonstrated a range of electronic devices to visitors.
He said: "One of the great things about Hack Oldham is it has a good mix of men and women, and is very family-friendly.
"We run workshops on all kinds of things, from learning to programme to making mosaics.
"We try to make it fun, let people meet each other and teach new skills. That's our ethos."
Another member Nathan Hickling, from Hollinwood, demonstrated a full-size remote-controlled Dalek, modelled on the infamous Dr Who alien-machines.
The Oldham Dalek, named Bob, blasted-out robotic orders such as 'exterminate' at Professional Oldham guests.
Catering for the night came from volunteers from Real Junk Food, which uses fresh surplus food from supermarkets. Nikki Davies and Daisy Cowley were among the volunteers.
They said Real Junk Food is linked to Incredible Futures Oldham, a social enterprise which was helped with workspace needs by Hack Oldham.
Since its foundation, Incredible Futures has grown to currently provide employment for ten people.
Professional Oldham is a not-for-profit group provides quarterly business networking-social events. It is led by a steering group of volunteers.
They are Suzanne Wright of Pearson Solicitors and Financial Advisers, Bridget Batty of Limetree PR, Stephanie Doherty and Helan Graham, both of Caremark Oldham; Angela Higham of Dr Kershaw's Hospice and Robbie MacDonald, of Oldham Business Edge magazine, published by Oldham Chronicle Online and Revolution 96.2, and Cornerstone Design and Marketing.
Previous events have included wine-tasting at the Naked Bean cafe next to Gallery Oldham, a tour of the award-winning Odeon cinema development at Oldham's regenerated Old Town Hall, a tour of historic George Street Chapel heritage and event centre, a manufacturing night at Oldham Training Centre and a barbecue at Dr Kershaw's Hospice.