Cornerstone designs bespoke website for Manchester's 'Bee in the City' art trail
Date published: 27 April 2018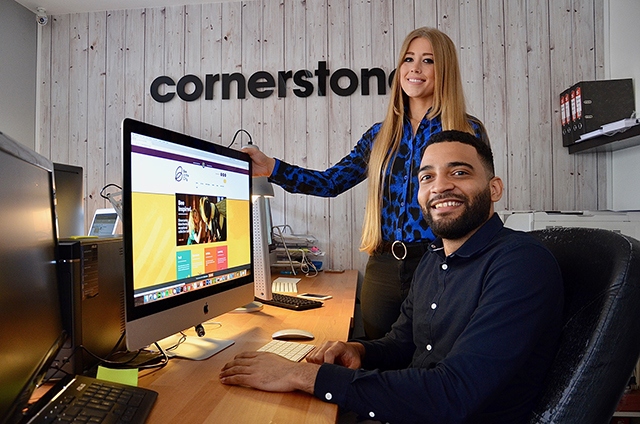 Mubarak Panti and Nicola Adamson with The Bee in the City website developed by Cornerstone Design and Marketing
Oldham agency Cornerstone Design and Marketing has developed a bespoke content-managed website to promote the Bee in the City public art trail and events in Manchester this spring and summer.
Bee in the City has been put together by Wild in Art and Manchester City Council.
The trail features over 80 giant bee sculptures created by professional and emerging artists at locations across the city.
The aim is to showcase creativity, education, civic pride and the city's landmarks to residents and visitors alike, boosting engagement, community cohesion, visits, business and tourism.
The Bee in the City website developed by locally-based Cornerstone, beeinthecitymcr.co.uk, places user-experience (UX) to the fore with easy navigation and clear calls-to-action.
The website is also mobile-optimised and utilises Google API integrations and social media integrations to provide a positive user-journey.
It displays information about the sculpture trail, sponsors, artists, events, news and contacts.
The design reflects a broad range of users including schools, businesses, sponsors, parents and children.
Cornerstone developer Mubarak Panti said: "The website is a bespoke-built, handcrafted Wordpress website which utilises high levels of customisation.
"This helps to enhance the website's functionality while make using user-experience clean, simple and enjoyable for both the web visitor and administrator.
"The site was launched on our dedicated web server which is built for speed and handling high volumes of traffic.
"We've also integrated HTML5 and CSS techniques that make for a fun and polished experience, reflecting the energy and ethos of the events."
Cornerstone graphic designer Nicola Adamson also worked on the website structure with brand assets from Wild in Art.
She helped create an engaging, clearly designed and consistent website making for great user-experience.
Traffic to the website is boosted by social media, PR and other marketing techniques with the events gaining coverage on local TV, newspapers and digital media platforms.
Bee in the City is described as one of Manchester's biggest-ever public art events with a calendar of activities through the spring, summer and autumn.
It also supports the Lord Mayor of Manchester's We Love MCR Charity, which helps residents, community groups and good causes.
The worker bee appears in Manchester's coat of arms as a symbol of hard work, energy and creativity. Bees play a vital role in wild and urban environments by pollinating flowers.
Bees and honey production have been important for food, gardens, farming and medicine for thousands of years, and have also inspired art, design and culture.
Wild in Art produces public art events across the UK and globally. Providing a showcase for amateur and professional artists, it focuses on creating popular art events that bring communities together.
Outcomes can include reaching new audiences, raising charitable funds or increasing engagement and offering alternatives to the traditional 'elite' art gallery experience.
Cornerstone has previously worked for Wild in Art on a variety of projects across the UK and in New Zealand, and a website for the Snowdog Art Trails.
The Snowdog character is the canine friend of The Snowman, created by book author and illustrator Raymond Briggs and also featured in TV and films.
The agency's development of the Snowdog Art Trails website included e-commerce functions for merchandise sales and a consumer loyalty programme.
It followed Penguin Books' brand guidelines and used bespoke photography for each figurine.
Cornerstone Design and Marketing is a full-service digital and advertising agency founded by David Wadsworth in Oldham.
It serves clients across Greater Manchester and the North-West in sectors including leisure, property, manufacturing, engineering, the NHS and scientific industries.
It has a multi-disciplinary team of graphic and website designers, copywriters, video and marketing specialists.
Its' clients include cough medicine manufacturer Covonia, Cancer Research UK, Manchester City Council, North West Ambulance Service, Oldham Community Leisure, Recycle for Greater Manchester and a range of SMEs across the region.