Derker newbuilds proving popular
Date published: 02 May 2018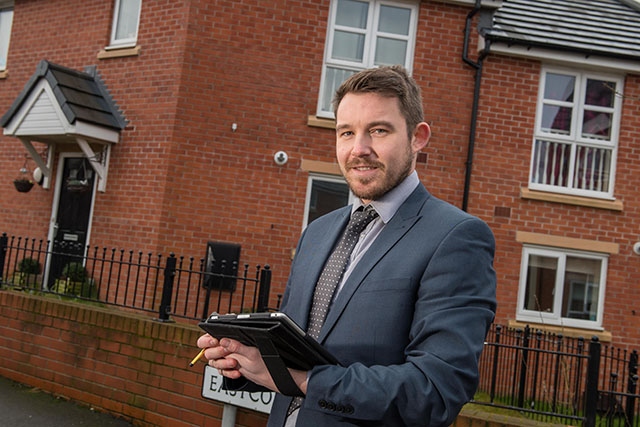 Ryder & Dutton Oldham branch manager Michael Hodson
New houses built in the Derker area of Oldham are proving popular, a local property expert has reported.
Ryder & Dutton Oldham branch manager Michael Hodson said modern town houses built in the London Road area in recent years are selling well - and having a positive impact on the wider area.
Hodson said: "Newer town-houses built in Derker a few years ago are very popular and re-selling well.
"They have more character and space than some previous homes and have had a good impact on the area.
"We recently sold one property there on the first weekend of viewing."
Speaking in the new Oldham Business Edge magazine, published by the Chronicle, Hodson also gave his views on the wider property market in central Oldham and the outskirts.
He said: "I think the property market is going to be competitive this year.
"There is economic uncertainty which makes some people improve their homes rather than sell.
"However, we would encourage people to consider putting their properties on the market as a test with us, without any costs.
"Prices have risen in the past 18 months in the most popular areas of Oldham.
"There's good demand for family homes in good locations, modern properties and new build homes are selling well too."
Help to Buy, cash-back and stamp duty incentives have also helped people get on the property ladder, he added.
Elsewhere in Oldham, some traditional terraced houses can be bought for £50,000-£60,000 and provide £450 or £500 in rent per month.
So these offer a good return for buy-to-let landlords, Hodson said.
Ryder & Dutton's town centre office is seeing a high volume of work, with lots of viewings, offers and sales.
It completed sales on over 250 properties last year, Hodson added.
He said: "There are quite different property demands in the area, from traditional Victorian terraced houses, where buy-to-let investors are getting high yielding."
Ryder & Dutton now has a network of 26 offices, incorporating the recently acquired Mortimers Estate Agents, and has been established for nearly 100 years.
The company of estate agents, valuers and auctioneers serves large parts of Greater Manchester, Lancashire, West Yorkshire and north Derbyshire.
The company's head office was historically based at Union Street until 2007, but is now at Salmon Fields Business Village in Royton.
The town centre office now focuses on residential property while commercial property is handled by Ryder & Dutton's commercial team at Salmon Fields.
For the full report on the Oldham residential property market and Ryder & Dutton's Union Street branch, see the latest Oldham Business Edge magazine.