Get your pitch in for Venturefest
Date published: 04 June 2018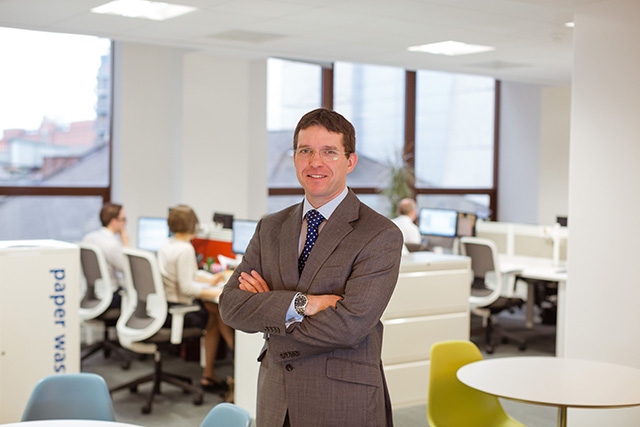 Chris Greenhalgh, head of innovation and programme development at the BT Business Growth Hub
If you run a company in Oldham and innovative ideas are at the heart of it, Venturefest North West 2018 is the place for you.
And if they're not, it's a great place to start, say organisers GC Business Growth Hub.
The region's biggest annual innovation event comes to Manchester Central on Thursday, September 13, providing a unique networking platform for companies across the North West.
Chris Greenhalgh, head of innovation and programme development at the Hub, said: "Venturefest North West is the ideal opportunity for entrepreneurs to meet like-minded business leaders and experts, showcase their latest products and services, and meet funders who can invest in their innovative ideas."
Now in its fifth year, one of the centrepieces of the event is the Innovation Showcase Competition, open to start-up and young companies, as well as established businesses.
Ten finalists will have the chance to pitch their business idea to an audience of potential investors and win a package of support provided by the partners of the Hub.
And for the first time, there are four new categories to enter: Product Innovation, Service Innovation, Digital Innovation and Innovative Established Business.
One of last year's winners was Manchester-based Beatstream Media, which has developed a live music streaming mobile app and counts former Inspiral Carpets keyboardist and Oldham DJ Clint Boon as its Director of Music.
Co-founder Helen Fish said: "Venturefest gave us a platform to showcase the business we believe in and are so passionate about.
"Winning the competition was instrumental in our successful raising of investment, and the support of GC Business Growth Hub has been integral to our growth leading to our very exciting upcoming launch."
Chris added: "We strongly encourage the businesses of Oldham to enter the Innovation Showcase Competition.
"We have helped last year's 90 entrants to secure over £4 million-worth of funding offers in total, eclipsing the £1 million-worth of funding support we helped the competition entrants to secure in 2016."
Businesses that don't consider themselves innovative shouldn't be put off attending Venturefest.
Chris added: "Innovation has a far broader meaning than people sometimes think: it's not just about ground-breaking technology - businesses innovate in many ways, developing new services, implementing processes and launching new business models to meet changing market needs.
"Venturefest is somewhere that can provide that important spark of inspiration, or new contact that will make a real difference to your business."
Keep your eyes peeled on www.venturefestnorthwest.com for further announcements, to register your attendance, to enter your business into the 2018 Innovation Showcase Competition, or to find out how to become an exhibitor.
Businesses looking to access specialist support can visit www.businessgrowthhub.com for more information about the organisation's extensive range of services.
This and other GC Business Growth Hub projects are part-financed by the European Regional Development Fund (ERDF) as part of the GM Business Growth Hub project designed to help ambitious SME businesses achieve growth and increase employment in Greater Manchester.