HPP expands again with another new warehouse
Date published: 03 July 2018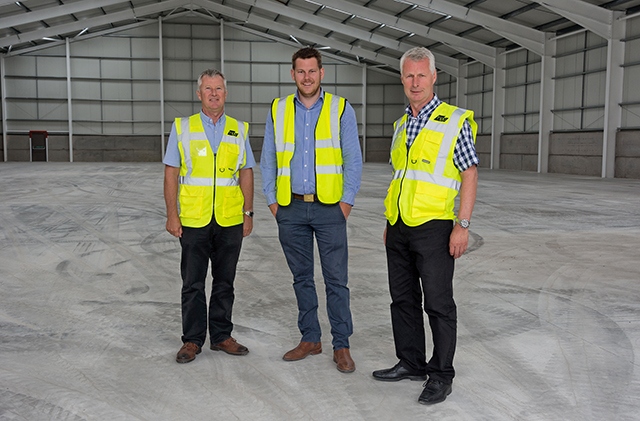 Pictured (left to right) at the new HPP warehouse are Martin Hill, Karl Parker and Stephen Hill
Furniture industry doors, boards and fittings supplier Hill's Panel Products (HPP) has built a new 19,000 sq ft warehouse to support a £2.5 million expansion in manufacturing facilities.
The new building is the biggest free-standing warehouse at HPP's head site in Oldham.
The triple-fronted warehouse will store worktops and panel products, freeing-up another warehouse for conversion into a new manufacturing production line later this year.
HPP's investment and expansion comes amid significant commercial growth.
Sales have grown 16-per-cent in the past year, on top of 15-per-cent previously.
Door sales have risen by 30-per-cent and 11 new staff have been trained for manufacturing roles.
The company has 200 staff, a second distribution centre in Sheffield and supplies over 2,000 customers across the entire UK including trade kitchen and bedroom installers, showrooms, property developers, architects and interior specifiers.
HPP manufactures its own-brand products including Avanti doors, Glide sliding doors, and Aspect and Aspire kitchens and bedrooms.
It also supplies products by other UK and European brands.
It currently offers 6,000 products which cover full and processed MFC (melamine faced chipboard) sheet material, vinyl-wrapped furniture doors and associated furniture fittings.
HPP is headed by brothers Martin and Stephen Hill, and managing director Keith Wardrope.
Martin Hill is overseeing the warehouse and manufacturing expansion.
He said: "This £2.5 million project represents our biggest investment to date.
"Work began on the new warehouse in November, 2017, and has recently been completed on schedule
"The warehouse allows us to expand our worktops range and create extra space to increase our production capacity.
"We're already making preparations to adapt an old warehouse for manufacturing, with an upgraded extraction system and waste disposal hoggers, feeding into our waste-recycling heating system.
"New manufacturing equipment will then be installed in the autumn."
HPP worked the new warehouse with Oldham architects Nicol Thomas and Pioneer Design & Build in Crewe.
Martin added: "We've been working with Pioneer Design & Build for 15 years and this will be the firth warehouse they have built for us."
The new warehouse is on land purchased from a neighbouring construction supplies business, George Hill Timber.
HPP has invested heavily in facilities and services in recent years.
The Oldham site now has highly automated production lines, a specially-designed and highly space-efficient warehousing system and a bespoke trade counter.
Furthermore, the Sheffield distribution centre is being extended.
Overall HPP now has more than 250,000 sq ft of floor space at the two sites.
In addition, customer sales, delivery, IT and marketing departments have been expanded.