DPC make an impact in the new high-tech world of puzzles
Date published: 09 October 2018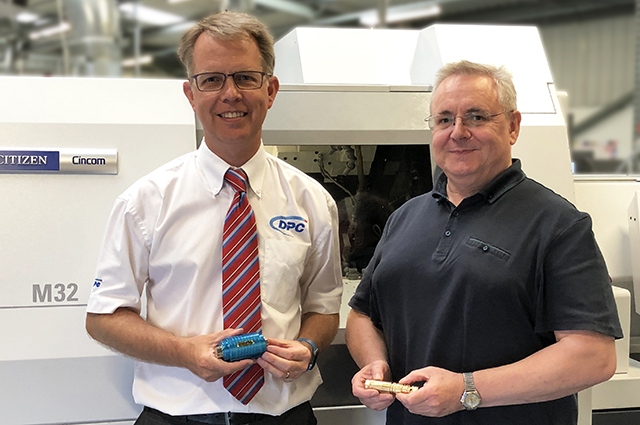 Simon Dawson, left, of Dawson Precision Components and Chris Pitt of Ashton Pitt, with Revomaze components at DPC's Oldham base
Dawson Precision Components (DPC) is supplying world-class British engineered parts for thousands of 3-D revolving Revomaze metal puzzles.
The Oldham engineering firm is manufacturing components for Revomaze developer Ashton Pitt Ltd, based in Cumbria, which sells the cylindrical mazes globally.
Players need dexterity, memory, endurance and self-control to unlock the metal puzzles. They have to avoid traps and stick closely to tiny walls and bridges to find their way out.
DPC has so far supplied 5,000 mazes plus other precision-engineered parts including aluminium sleeves and stainless-steel drawbars and pins.
The first Revomaze puzzles went on sale in 2009. Since then, the range has expanded to 18 designs, each offering increasingly-complicated challenges.
Simon Dawson, managing director of DPC, said: "The Revomaze concept is a top-of-the-range maze or executive toy comprising brass nickel-plated bodies, stainless steel pins and draw bars, and aluminium outer sleeves.
"Our client, Ashton Pitt, wanted a highly-reliable precision engineer to manufacture the parts while they focus on promotional work and designing new puzzles.
"DPC first made parts for the beginner level blue-coloured maze. There are currently eight different versions in production with more planned.
"The mazes have very complex designs, with square and circular moves, different paths and depths. For example, the indigo-coloured game has seven depths.
"Precision-engineered parts include ramps leading from one level to another, sliders, pins and bridges. Some mazes include magnets.
"Machining the parts requires very complicated G-code programming for our equipment, which can take two days to complete.
"The client provides the designs for each maze then DPC works hand-in-hand with them to develop their designs into machinable parts.
"DPC uses a top-of-the-range Citizen M32 machine for the main maze bodies and a Mazak turn/mill centre for aluminium sleeves. Other Citizen machines are used to manufacture other parts.
"In addition, DPC's product inspection and process control services are also critical. There are 21 aspects that we check thoroughly.
"The finish of the mazes is also crucial. The brass raised body is nickel-plated to a bright, durable finish.
"The outer sleeves are diamond-turned to get a beautiful finish, then colour anodised to match the particular maze design it is to be mated with."
The Foundation Set of Revomazes are finished in Aqua, Blue, Green and Bronze colours.
The Master Set is coloured Indigo, Gunmetal, Copper and Mint. Further puzzles are Orange, Red, Black, Gold, Titanium, Lime, Purple, Salmon and Silver.
Commenting on the mazes' global popularity, Dawson added: "There is a big scene around these including YouTube videos and online forums.
"A YouTube review of the Blue Revomaze by Mr Puzzle on how to complete the puzzle has nearly five million views. There are limited editions, collectors' versions, puzzlers and gamers. There's a real buzz."
DPC was founded in 1965 and provides wide-ranging precision engineering and subcontract services to clients in the UK, Europe and beyond.
A member of the British Turned Parts Manufacturing Association (BTMA), it works across sectors including aerospace, aviation, defence, energy, environmental, marine, medical, motorsport and rail transport.
It recently installed advanced new machines at its Greater Manchester base - including one machine that is the first of its type in the UK.
The new equipment represents the latest stage of investment. Over £1 million has been invested in expanding DPC's workshops and premises in recent years by owners Simon Dawson, Paul Dawson and Julie Hughes.
The new machines are a Miyano BNA 42 GTY with low frequency vibration (LFV) and a Citizen L20 Type 8, also with LFV, which enables better swarf management in metal or plastics.
The Citizen is a 20mm capacity sliding head with sub-spindle live tooling and magazine bar feed. It is particularly suited to long, slender jobs and parts that require turning and milling in one operation.
The Miyano is 42mm capacity and similar configuration to the Citizen.
It is the first of its type to be installed in the UK with LFV Technology. It has replaced two older machines and complements other machining capabilities of 32mm and 50mm diameters.
Visit: dpc.co.uk
---
Do you have a story for us? Want to tell us about something going on in and around Oldham? Let us know by emailing news@oldham-chronicle.co.uk , calling our Oldham-based newsroom on 0161 633 2121 , tweeting us @oldhamchronicle or messaging us through our Facebook page. All contact will be treated in confidence.