Business Edge magazine is OUT NOW
Date published: 11 December 2018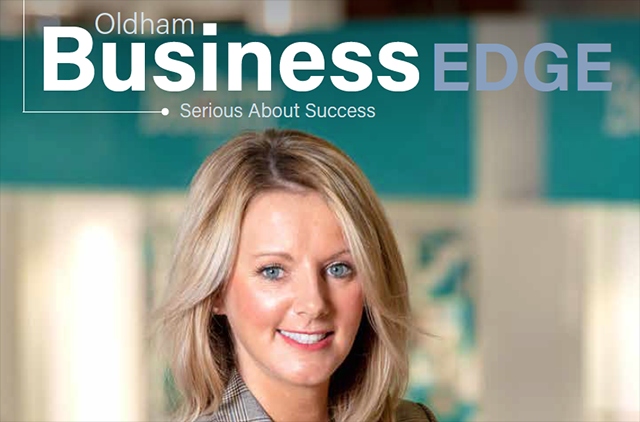 The latest Business Edge magazine features Ultimate Products' commercial director Jenny Stewart on the cover
The new winter 2018/19 edition of Oldham Business Edge magazine is out now, in print and digital versions.
The quarterly magazine, published by the Chronicle, features Ultimate Products' commercial director Jenny Stewart on the cover.
Inside, Jenny, from Royton, talks about her career development with the fast-growing Chadderton-based company which develops branded homewear goods for retailers across the world and was floated on the Stock Exchange last year.
She speaks about Ultimate Products' focus on recruitment and training, and on the wider contributions of women in business.
Elsewhere in the magazine, chartered surveyors firm Breakey & Nuttall reports on how it has dealt with more commercial property sales and lettings in the borough in the past year than any property firm, verified independently by UK property industry researcher CoStar.
The news follows a year in which Breakey & Nuttall, based at Salmon Field Business Village, has achieved a number of significant local commercial property deals and invested heavily in staff recruitment and development.
In another feature, Pearson Solicitors & Financial Advisers commercial law expert Aaron Marshall provides advice on how to avoid complaints and claims of professional negligence, and what steps to take if a claim does arise against your business.
Other social news include photos from the Oldham Business Awards' annual Corporate Quiz held at the White Hart restaurant in Lydgate.
The event was won by Hollinwood-based Physio Matters and raised money for Dr Kershaw's Hospice and Mahdlo.
Preparations are now underway for the 2019 Oldham Business Awards, backed by headline sponsor Pearson Solicitors & Financial Advisers. Entries and nominations can be submitted via the official website oldhambusinessawards.co.uk.
Another feature highlights business support from the Oldham Enterprise Trust, backed by Sir Norman Stoller, to a new fitness gym in Saddleworth.
The Kiss Fitness Centre has been opened in Diggle by Chris Kiss and brother Steven, who have played rugby for Saddleworth Rangers and had success in muscle model championships.
Other news includes Cornerstone Design & Marketing's role in two publicity campaigns for the North West Ambulance Service which received gold awards at Chartered Institute of Public Relations (CIPR) 2018 Pride Awards.
Print copies of Oldham Business Edge can be picked-up free at locations including Hollinwood Business Centre, Oldham Training Centre, Chambers Business Centre, Oldham College, University Campus Oldham, Pearson Solicitors & Financial Advisers, Breakey & Nuttall, Oldham Library, Chadderton Wellbeing Centre, Oldham Chronicle/Revolution 96.2 and Cornerstone Design & Marketing.
The digital version can be seen online at the Chronicle's business section.