Oldham business gives Liverpool FC Disabled Supporters Association a stepping-stone for growth
Date published: 12 February 2019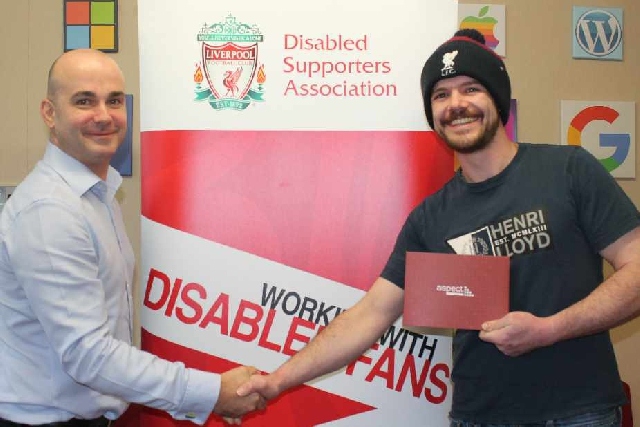 Oldham business gives Liverpool FC Disabled Supporters Association a boost
An Oldham based tech firm has donated a new website to the Liverpool FC Disabled Supporters Association (LDSA).
The LDSA is run by disabled supporters who aim to address disabled supporters' access to the ground and raise the standards of facilities offered to the supporters. The LDSA membership is open to supporters with disabilities and/or impairments and offer memberships to workers and carers of LDSA members.
The project work, which would have normally cost approximately £5,000, was donated by company director Peter Dorotiak on behalf of Aspect IT. Aspect IT chose to take on this work for the LDSA as way of contributing to, and raising awareness of, the positive work that the LDSA do.
Established in 2003 by technology specialists Peter Dorotiak and Ian Howarth, Aspect IT provides IT services, web design and software development to small and medium sized businesses across the Greater Manchester region.
Co-Director, Peter Dorotiak commented:
"The LDSA is a great association and the work they do is amazing. We wanted to help, and the best way we could was to build them a new website. We hope that this new website will give them a suitable platform to grow and raise disability awareness even further"
Karl Lindsay, Committee member of the LDSA added:
"The LDSA are excited to launch our new website to our members and would like to thank Aspect IT for all the help they have provided while designing and building the website for us. This is a pinnacle moment for the LDSA providing us with the stepping-stone we need for future growth of the association, helping us to bring together fellow disabled fans from across the globe".