Oldham business shortlisted for kitchen industry awards
Date published: 14 February 2019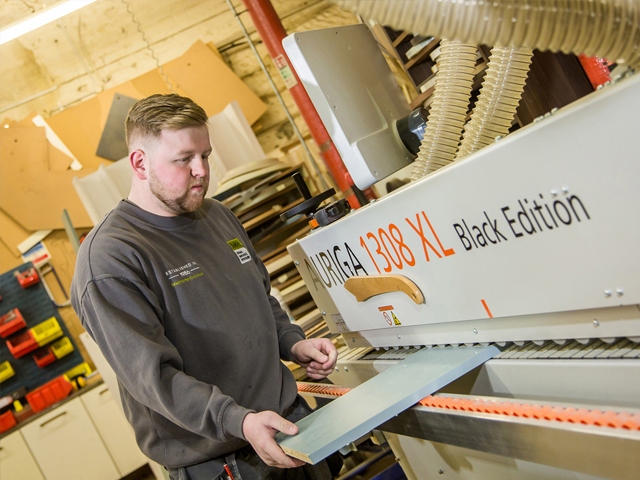 Fineline Interiors is up for several awards this weekend
An Oldham furniture manufacturer and retailed has been shortlisted for a raft of national kitchen industry accolades.
The winners will be announced at a glittering ceremony in London this weekend.
Fineline Interiors, which has three regional showrooms including one in Chadderton, will be turning up the heat at the UK NEFF Master Partner Excellence Awards, where they are nominated in three out of the eight categories.
Fineline previously scooped the NEFF Master Partner of the Year title in 2017.
The national awards celebrate the outstanding quality, passion and creativity of NEFF's Master Partners®, and the theme of this year's event is 'Perfect Pairing' to showcase the strong relationship between the brand and its elite kitchen retailers.
According to NEFF, there were over 200 entries submitted this year, totalling over 250,000 words and over 4,500 images, all demonstrating the dedication and design ingenuity of NEFF Master Partners®.
They say the number and quality of entrants was higher than ever.
The winners will be announced at a ceremony at the O2 InterContinental London Hotel on Friday, February 15.
Mike Jackson, Fineline founder and managing director, said: "After winning the NEFF Master Partner Award in 2017 we are now delighted to have been nominated for three of the categories for Neff Master Partner Excellence Awards 2019.
"The Fineline team will be attending the awards ceremony later this month in London and we are really excited.
"It's a great honour to even get a nomination when you consider the how many applicants there are for this industry. It would be incredible to come back with another award, so fingers crossed."
Fineline Interiors currently employs 25 staff in roles including design, surveying, manufacturing, showrooms and logistics.
It also works with a further 15 installers and contractors across the northwest.