Oldham hosts TEDx talk to discuss "improving the world"
Date published: 19 July 2019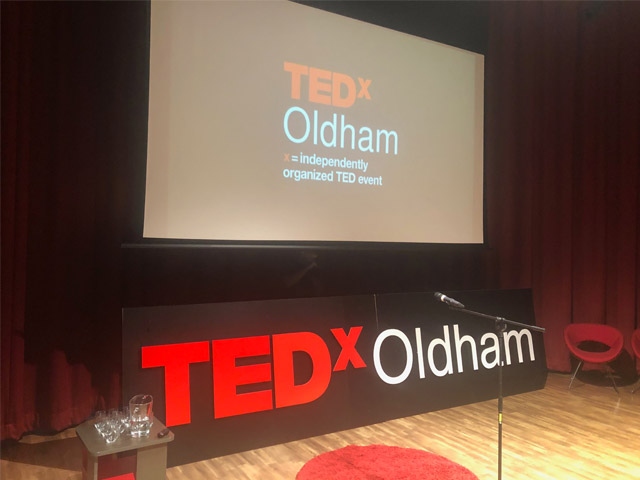 The TEDx talk at Oldham Library
A TEDx event in Oldham has been held at the town's library.
The programme, created by TED, is devoted to spreading ideas - often with inspirational speakers and powerful talks.
TED is a non-profit organisation.
The TEDx scheme brings people together on a local level, with independly-organised events run by volunteers.
Oldham's TEDx talk was themed around a quote from Anne Frank: "How wonderful it is that nobody need wait a single moment before starting to improve the world."
Host Andy Hall introduced a range of speakers, talking about topics like health and wellbeing, personal improvement, inspiration, climate change, and technology and design.
Ruth Major was the first speaker up.
She runs the "One Piece of Rubbish" scheme, which encourages people to pick up a single piece of litter every day to clear up their local town.
She said: "Oldham's got around 260,000 people in it - so if you pick up 260,000 piece of rubbish a day [you can make a difference].
"It just depends on what the environment is like in your area.
"You want to create the impact that if most people are picking it up then those people who are dropping it might think, 'hang on a minute, I shouldn't be doing this.'
"If the council didn't have to do it, they'd have money to spare for youth clubs, sports fields, all kinds of other things.
"It's only the council's job because people drop it in the first place.
"And it's actually illegal to drop litter."