Cricket: Oldham District triumph in U11 Bob Hurst Rosebowl Trophy
Date published: 08 October 2017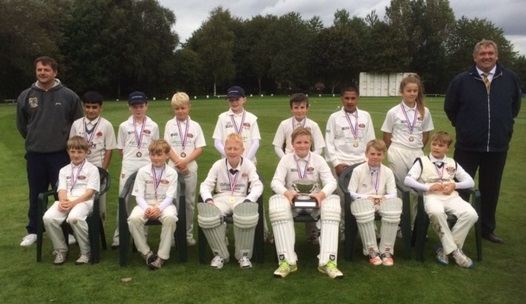 Oldham District Triumph in U11 Bob Hurst Rosebowl Trophy
Oldham District triumphed in the U11 Bob Hurst Trophy Final at Rainford CC against Bolton U11s.

The Bolton Innings got off to a steady start, which saw them reach 11 without loss inside the first five overs when Caitlin Mcdonald had opener T Holt caught behind for seven.
Eleven for one became 11 for three when Jack Fawcett removed F Davies for one and S Dziobon for a duck in successive deliveries, the latter to a sharp return catch.

Things got worse for Bolton when C Mcdonald removed F Staffordfor one and the dangerous George Taylor, for two, to an excellent diving catch by wicket keeper Alfie McMylor, to leave Bolton at 15 for five.
Bolton did their best but when Luca Pemberton removed J Dziobon for nine to an incredible one handed catch off his own bowling, and then bowled A Small first ball, the score was 36 for seven.

J Strong joined I Patel in the middle and some positive strokes started to see them accumulate runs at a steady rate. This forced Oldham into changing their bowlers, which had an immediate effect when Benjamin Walker had the very dangerous looking Strong lbw for 19, which included one towering six.

Patel continued to look solid but two misunderstandings saw the last two wickets fall to run outs and Bolton where eventually all out for 73 in the 25th over, leaving Patel stranded on 16 not out.

Fawcett and McDonald where the pick of the Oldham bowlers with seven overs two for 12 and seven overs three for 17 respectively.

The Oldham innings got off to the worst possible start when opener Roan Mallinson was bowled by J Dziobon with the score on seven. This was however, to be the last Bolton success as the Oldham captain Lucas Selby passed 450 runs for the competition with a very well-crafted 38 not out, well supported by Alfie McMylor who made 12 not out.

Oldham passed the target in the 17th over when Selby hit a huge six over his own players and spectators to finish the match and spark jubilant celebrations.