Anna is Weav-ing her magic
Date published: 11 April 2018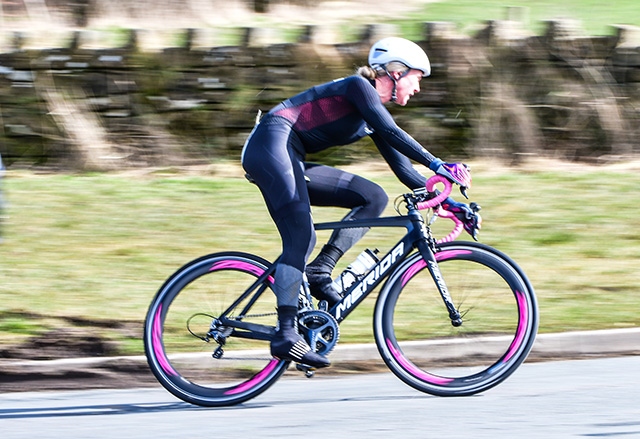 Photo: Ellen Isherwood
Anna Weaver is in good early-season form
Cycling round-up
Anna Weaver has made a terrific start to the 2018 East Lancs Road Club campaign.
She hasn't shown any lack of form in the early season events.
In the first M&DTTA 10m time trial, Weaver recorded 24 minutes, 37 seconds to win the fastest lady prize by over two minutes.
Weaver then came in as the third fastest woman in the West Pennine Hilly time trial, recording an amazing 35:17, but only after she was fined for a late start.
Otherwise she would have likely won her second event of the season.
Poor weather since Christmas has reduced the training programme for many cyclists, including Weaver, but the season started near the end of February despite this setback and is now into full swing.
The road racing started with the Clayton Grand Prix handicap race which centred around Bashall Eaves.
With the field divided into three groups starting seven minutes apart and with only 5.5 miles to cover, it was always going to be a quick race.
Paul Ashworth started in the middle group with Ollie Huszar and Ben Trippier in the scratch group.
The pace was frantic throughout, with the scratch group catching both the other groups well before the end of the race.
The lack of early season miles and training showed in the cyclist's performances, with Trippier finishing in the bunch and Huszar and Ashworth leaving the race before the finish.
A number of the East Lancs juniors each started well in the M&D TTA 10-mile time trial series with every rider recording a personal best.
Their personal bests are as follows:
Max Bentley, 25:20mins; Joe Cook, 26:01; Oliver Bentley, 24:58 and Oliver Makinson, 24:01.
In the same event, the Bentley boy's father David recorded his fastest 10-mile time trial in more than 20 years with an excellent 24:45.
Last weekend it was the Withington Wheelers 25-mile time trial.
Unfortunately, the event was shortened to a 10-mile time trial on account of roadworks appearing at short notice on the circuit.
The course used was the J2/3 starting on Twemlow Lane outside Holmes Chapel.
The riders ride east to meet the A535 they then head north to the island at Chelford, before re-tracing to finish at Twemlow.
The weather was good with only a slight headwind to contend with on the return leg.
The club times were:
Roy Nield, 24:17; Paul Ashworth, 24:28; Dave Trippier, 26:00; Karen Bailey, 28:00; and Darryl Nolan, 28:33.
At the Velodrome, Ollie Huszar continued to show impressive form.
In the Manchester Wheelers meeting, he won the Scratch Race, Points Race, Devil take the Hindmost, and the Unknown Distance Race to dominate the event.
He currently sits at 10th overall in the national rankings for first Cat riders.