Golden delight for Amirul
Date published: 30 May 2018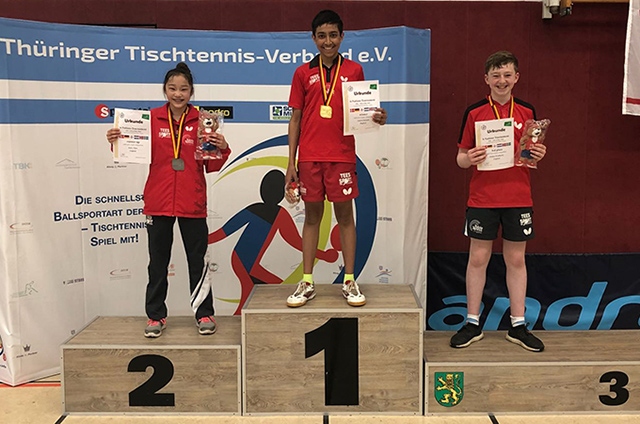 Oldham's Amirul Hussain tops the podium at the Cadet 6 Nations tournament in Germany
Table Tennis
Oldham's young England international starlet Amirul Hussain won the gold medal at the Cadet 6 Nations tournament in Germany.
After the medal-winning exploits of England boys and girls in the team events, attention turned to the individual competitions.
Five English players made it through the group stages, but it was Hussain who took pride of place.
Having won all five group matches, losing only two games in the process, he defeated Gabrielius Camara of the Netherlands 3-1 in the quarter-finals and Germany's Karl Zimmermann 3-0 in the semis.
England's Josh Weatherby won five group matches out of six, and he overcame German Vincent Senkbeil 3-0 in the quarter-finals.
His was then defeated 3-2 in the semi-finals by Mattis Naslund of Norway, who went through to face Hussain in the final.
The pair had already met in the groups, with Hussain winning 3-0, and the outcome was the same in the final, though this time it was 3-1 in the England athlete's favour.
Meanwhile, Hussain has been named in the England squad for the European Youth Championships in Romania next month.
The 14-year-old will travel to Cluj-Napoca for the event, which runs from July 15-24.
He will compete in the cadet boys' team competition alongside Louis Price, Jamie Liu and Josh Weatherby.
Cadet 6 Nations​ results
Boys' Singles
Group A
Amirul Hussain bt Lleyton Ullman (GER) 3-0 (11-5, 15-13, 11-7)
Hussain bt David Bjorkryd (SWE) 3-2 (14-16, 11-8, 6-11, 11-8, 11-5)
Hussain bt Barry Berben (NED) 3-0 (11-8, 11-8, 11-9)
Hussain bt Patrick Skarsholm (DEN) 3-0 (11-6, 11-5, 11-4)
Hussain bt Mattis Naslund (NOR) 3-0 (11-2, 11-9, 11-5)
Quarter-finals
Hussain bt Gabrielius Camara (NED) 3-1
Semi-finals
Hussain bt Karl Zimmermann (GER) 3-0
Final
Hussain bt Mattis Naslund 3-1