Oldham Gym celebrates another young boxing success
Date published: 21 February 2019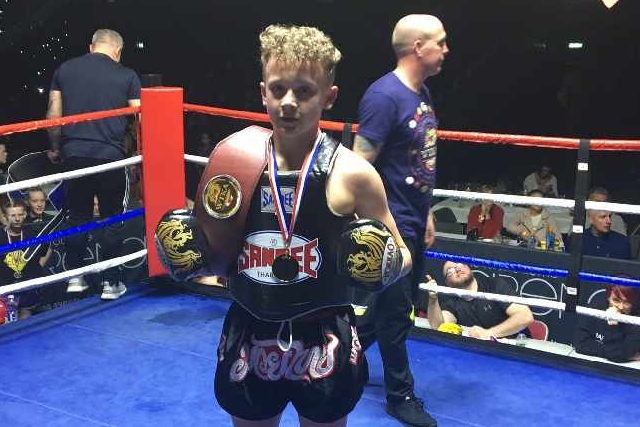 Anthony Hamer with his boxing belt
Young boxers from Oldham have been showing off their skills at the Supershow competition at the Barnsley Metrodome.
Six talented fighters from Isaan Gym in the town were on show at the bout on Saturday night.
The local gym - based on Gladstone Street - had a mix of results with the team walking away with 2 wins, a draw and 3 defeats.
13 year old Anthony Hamer was the star of the night becoming the 55Kg Anglo Irish champion after stepping in with just 24 hours notice due to injury.
Head Coach, Ste Donelly said: "It was a superb day for Isaan Gym all our boxers performed superbly. Our juniors are fighting on the biggest stages against the best Gym's in the UK".
The gym - which has been opened for three years - already boasts a number of accolades with 2 world champions, an international champion, 4 British champions, a Sandee Open champion and kids ranked in the UK's top 10 for their age.
It's not just about competiting for belts and trophies. The gym encourages youngsters at all levels to come along and give the sport a go.
Mr Donelly said: "Not everyone who comes to the gym needs to compete. Boxing is a great sport for fitness and it also helps build confidence and self asteem.
"It's fantastic watching the kids grow and develop. I've seen boys and girls come to us lacking confidence go on to compete".