Panda celebrating 'Good' OFSTED rating
Date published: 15 February 2018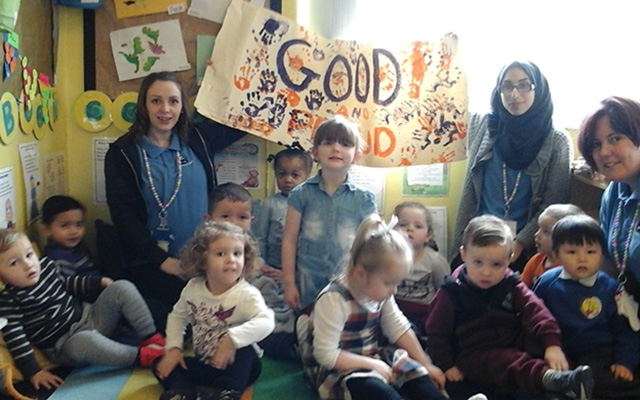 Staff and children at the Panda pre-school in Chadderton
Panda pre-school on Broadway in Chadderton is celebrating after OFSTED has rated them 'Good' in all areas in their first inspection since opening in 2015.
The OFSTED inspectors report found, 'children's independence flourishes in this friendly and nurturing setting. Children enjoy their play and have a positive attitude to learning. For example children laugh, giggle and clap with excitement as they play'.
Panda pre-school is managed by the Werneth and Freehold Community Development Project - a charity that has worked in the Oldham Borough since 1991.
It is a non-for-profit preschool, meaning any revenue generated by the school is re-invested in the work of the charity.
Panda pre-school manager Gayle Cooper said: "I am extremely proud of my team and all the hard work they have put in since the opening of the pre-school.
"The report reflects on the experience and quality of the teaching and nurturing of the children."
Panda pre-school aims to maintain affordable quality childcare.
All three and four-year-olds can receive a grant to get 15 hours childcare free.
Some eligible three and four-year-olds can receive 30 hours free childcare and some eligible two-year-olds can get 15 hours free.
A three-hour session for three to four-year-olds is £10.50 and for two to three-year-olds £11.