You can be a high-flier with First Choice Homes
Reporter: Simon Smedley
Date published: 04 June 2018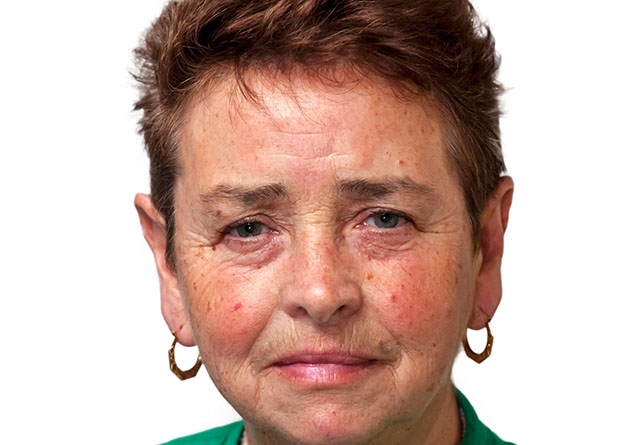 Bernadette Callaghan
'Aim high' would seem to be the clear message from outgoing First Choice Homes board member and tenant Bernadette Callaghan as she looks forward to well-deserved retirement after almost a decade with the Borough giants.
Bernadette – or Bernie as she is affectionately known to friends and First Choice colleagues – stands down from her role in September.
During her time on the board, Bernie has been a member of Governance and Remuneration, Audit and Risk, and Health and Safety committees too.
Now, she is encouraging anyone, especially customers of First Choice from any background and any part of Oldham, to apply for a board member role, as there are currently three up for grabs.
And with payment of £4000 a year plus expenses, Bernie wants others to know what a great opportunity it is.
Don't be daunted by what you think may be involved, insists Bernie, whose journey of involvement with First Choice Oldham began in 2008 when she was elected as the Vice Chair of the Oldham Council Tenants' Forum .
From there she applied to be a member of the new First Choice board and was surprised but delighted to be elected.
She said: "I remember when I was first told I'd been elected to the board on my birthday, September 3, 2009, I nearly fell off my chair.
"I really hadn't expected it, but I thought I'd give it a go and I've never looked back since.
"I've thoroughly enjoyed it.
"Believe me, anything we didn't know, we were directed onto the right track, and we had lots of training.
"I've loved it at First Choice Homes. Staff are always here to support you – you only have to ask.
"The rest of the board have always been supportive – it's just a great place to work and I'd recommend anyone who might be interested in applying for a board place to just not hesitate.
"Don't be frightened of it. Embrace it and you'll succeed like I have."
Hollinwood-based Bernie worked for decades in the metering industry – with Ferranti and then Siemens – before joining First Choice.
She was a works convener and Union branch secretary.
She worked tirelessly on the creation of First Choice Homes Oldham, the following stock transfer of 12,500 homes and delivery of the promises made to tenants.
In recognition of those efforts she was recently shortlisted for the 'Housing Heroes' awards in the 'Tenant Lifetime Contribution' category – with the winner announced at an awards ceremony on June 25.
She became Vice Chair in 2012, before being appointed Chair in 2014, after former chair Harry Burns – who Bernie describes as a great support to her - passed away.
She stepped down as chair in 2016, and the position is now held by Ged Lucas.
On the First Choice website, Bernie states: "I am a strong advocator that the needs of our customers are paramount and believe it is the role of the Board to ensure First Choice Homes Oldham deliver the expectations of our customers with the aim of being the best social housing provider."
Details of the three board member vacancies can be found on the First Choice website.
Anyone interested in applying needs only to enter their contact details and within a few days someone will call them to have a chat about the role.
Check out: www.fcho.co.uk/join-our-board for more details.