Royal Alloy scooters - It's time to dig the new breed!
Reporter: Simon Smedley
Date published: 07 June 2018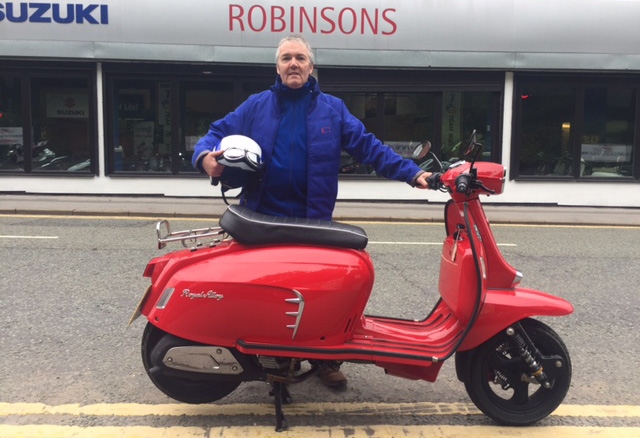 Simon Smedley checks out a brand new Royal Alloy GP200, courtesy of Robinson's of Rochdale
Scroll down for Video
Scooter review - the exciting NEW Royal Alloy GP 200
As a dyed in the wool scooter fanatic since way back in 1982, I guess more recently I've always been a little wary – or maybe even frightened – of change.
Vespa's and Lambretta's - I've ridden them both lovingly during these past 30-odd mod-inspired years.
Oddly enough, the only Lambretta I ever had – an SX200 model in the mid-1980s – is the only scooter I've owned that never broke down, but I still favour a Vespa and the latest PX model I had was my fourth.
However, maybe now is the time for change, and there are brand new machines out there, with some clearly aimed at dragging traditional scootering kicking and screaming into 'the future'.
One such scooter, or make of scooter, is the Royal Alloy.
You only have to look at a Royal Alloy to see it's taken its inspiration from a traditional Lambretta.
The shape is sleek and cool, not overly fussy – in fact it features everything every discerning scooterist is after.
It is a 'change' to see another new kid on the block, though, and that's why, when I was preparing to take out a Royal Alloy GP200cc on a test ride, I insisted that I needed to be convinced.
I'm now in my early 50s so change doesn't come easy, but wow, these new Royal Alloy machines are easy rides and I could definitely be tempted.
I'm not mechanically-minded, so the fact that these all-new scooters come with a two-year warranty and feature great, effortless performance from a liquid-cooled, fuel-injected engine means we're onto a winner.
ABS brakes get you to stop with confidence, leaving the drama merely to the journey you decide to undertake.
They might not sound as meaty as a tuned-up Lambretta or Vespa PX, but for 'Modern World' scootering, these machines tick every box.
They handle well, corner comfortably, and are quite rapid off the mark for an automatic I thought.
These latest head-turning scooters are catching on, with orders into Robinson's in Rochdale increasing gradually, and soon enough the Royal Alloys will be a very familiar sight on rallies and ride-outs.
They offer style, comfort and crucially peace of mind, and thesedays that counts for so much.
Certainly the chances of me submitting to 'change' have increased massively since the weekend.
The brand website reads: "Royal Alloy is poised to shake up the scooter scene with sleek design and accomplished performance across the range, which sets us apart from the crowd.
"All this comes at a price that commands attention."
These ace scoots start at just £2,499 plus On The Road costs for a Royal Alloy GT model.
Call Robinson's (contact details below) for other GP and 200cc model prices.
Royal Alloy GP 200 specification
Displacement: 181
Engine: Single cylinder, 4-stroke
Compression Ratio: 11.6:1
Fuel System: Fuel Injection
Transmission: CVT
Final Drive: Belt
Front Suspension: Spring Shock
Rear Suspension: Single Shock
Front Brake: 220mm Disc
Rear Brake: 220mm Disc
Front Tyre: 110/70-12
Rear Tyre: 120/70-12
Dimensions (mm): 1870mm x 620mm x 1115mm
Wheelbase (mm): 1370mm
Seat Height (mm): 770mm
Fuel Capacity (l): 11 litres
Royal Alloy scooters are available from popular Rochdale dealership Robinson's, which is based on Water Street (tel: 01706 716650).
Why not check out Robinson's motorbike and scooter stock at this Saturday's (June 9) spectacular open day event?
Running from 10am until 4.30am, the open day will feature a Yamaha Adventure bike demo, you can try an extreme wheelie machine, while there will be special offers on Principal Insurance, all Oxford products and lots of IAM Roadsmart team goodies.
Music comes from Benjamin Lee Smith, current keyboard player with the Human League no less, while fresh food and drinks will be available all day.
Check out: www.robinsonsrochdale.co.uk
What do you think of the new Royal Alloy GP200?