Research highlights costly risks of passing away without a valid will
Date published: 08 November 2018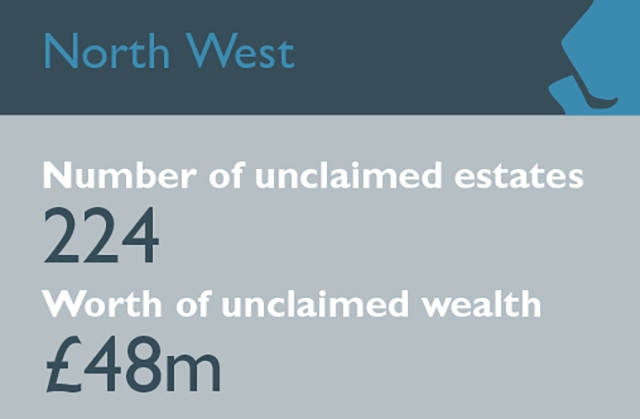 As of November 5, 2018, over 8,800 estates remain listed on the Gov.UK website, including those of citizens who died abroad
There is potentially £48 million worth of unclaimed estates in the North West as a consequence of individuals passing away without a will or a valid will, according to analysis from leading law firm BLM.
The research highlights the risks associated with not preparing a will and the financially devastating consequences for relatives of the deceased, particularly for cohabiting couples who are not afforded the same rights as those who are married.
When a UK resident dies without leaving a will, they are classed as dying "intestate" without a next of kin.
Any assets and wealth are then listed as unclaimed, eventually going to the Crown.
As of November 5, 2018, over 8,800 estates remain listed on the Gov.UK website, including those of citizens who died abroad.
With the median household total wealth in the North West standing at £212,100, and 224 unclaimed estates listed, BLM estimates there to be potentially £47,510,400 worth of unclaimed wealth in the region.
The research uncovers the underlying issue that the area is not sufficiently prepared, or understands the consequences of, not having a valid will in place.
James Beresford, the firm's wills and estate planning legal expert refers to this as will apathy: "It's incredible that we place such importance on owning property and to be prepared for savings and pensions, but are apathetic when it comes to estate planning.
"This research emphasises how many people are wholly unprepared when it comes to ensuring that their loved ones benefit from their estates.
"Whatever assets might classify as your estate, whether property, possessions or wealth, it is important that you clearly set how these assets should be handled and protected after you pass away, to legally protect your family adequately."
Beresford emphasised the impact this can have on unmarried couples, adding: "With cohabiting families growing in popularity, it is just as crucial to define who should inherit your assets.
"Under the rules of intestacy, cohabitees have no rights to the estate.
"If you haven't named your partner in your will, or as a nominated beneficiary under any life insurance, they stand to be left with nothing.
"This includes your home, wealth or physical assets, with your estate automatically transferred to your next of kin or listed as unclaimed."
Even when a couple is married or in a civil partnership, without a will, the rules of intestacy mean a spouse is not automatically entitled to the entire estate.
For estates valued over £250,000, spouses are entitled to all personal belongings, the first £250,000, and half of the remaining estate – the rest is split amongst the deceased's children and potentially grandchildren.
If there are no children, then the surviving spouse will inherit everything.
The analysis stresses the importance of creating a will that clearly dictates the entitlement of each relative. In addition to property, financial or physical possessions, a will can also determine who is responsible for the care of children, even pets - areas that are often overlooked.
Beresford continued: "At what is always a highly tumultuous time, wills can put your families' minds at ease and avoid lengthy, costly legal battles.
"Furthermore, it means your children or dependents are left in the best care."
According to the regional breakdown conducted by the law firm, London had the highest number of unclaimed estates at 2,624, followed by the South East at 1,578 and the Midlands with 1,127.
---
Do you have a story for us? Want to tell us about something going on in and around Oldham? Let us know by emailing news@oldham-chronicle.co.uk , calling our Oldham-based newsroom on 0161 633 2121 , tweeting us @oldhamchronicle or messaging us through our Facebook page. All contact will be treated in confidence.