Oldham College rated "good" by Ofsted
Date published: 21 January 2019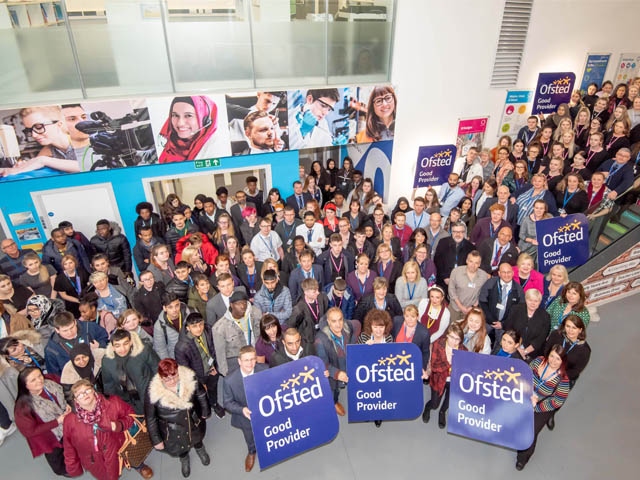 Oldham College rated as "good" by Ofsted
Oldham College has been described as "good" by Ofsted inspectors, following a full inspection in December.
The watchdog also noted a clean sweep of "good" grades in all categories.
Further education colleges are assessed over four areas – apprenticeships, adult programmes, 16-19 leaners and high needs.
Oldham College was described as "good" in each, as well as receiving the same standard for all four quality measures: outcomes; teaching, learning and assessment; leadership and management; and the personal development, behaviour and welfare of students.
In the report, inspectors said that learners were "enthusiastic and highly motived" with "exemplary" behaviour.
They also noted "mutual tolerance and respected towards each other, staff and visitors".
Tutors were praised for their "good subject knowledge, relevant qualifications and personal experience".
The watchdog also noted that extra support is given to those who need it in and out of the classroom.
One area that was given special praise is the "culture of inclusion" at the college.
It comes as the College had, only months earlier, had the Financial Notice to Improve lifted by the Government.
Chair of Governors, Jonathan Edwards, said: "This really is a truly fantastic achievement. The last few years have been very challenging, with the redevelopment of the site, huge funding changes, proposed mergers and a lot of new policies to deal with.
"However, we have worked our way through all of that, and employers, learners and the town now have a college they can be really proud of, at a time when great technical and professional education is desperately needed."
Alun Francis, Principal and Chief Executive said: "We are really pleased for our governors, staff, employers, partners and learners, who have all worked so hard under considerable pressure.
"You will have to go a long way to find a group of people more dedicated than them and they completely deserve this recognition.
"We have focussed on doing basic things really well and have built the foundations for the College to be very successful for a long time.
"Technical and professional education and training, which teaches useful skills for life and work, is the future.
"It offers real choices and opportunities compared to traditional academic programmes.
"It is what employers want, it is more affordable and often more enjoyable for learners.
"We have made this area of education and training our specialism and this report shows that we are very good at it.
"I would encourage everyone in Oldham or the surrounding areas to consider this kind of pathway and then to read the Ofsted report and come and visit us and see for themselves.
"Whichever career they are interested in, at whatever level, we can offer consistently high quality provision delivered by expert staff with very strong support and a superb learning environment.
"The Report is great news for the College, but much more importantly, great for the people who benefit from our work."
One of the initiatives picked out by Inspectors, was the College's unique 'Teaching for Distinction' programme, co-designed by the College but led by the well-known educationalist, Tom Sherrington.
The programme draws on the best work in the field to deliver a short but complete introduction to the most effective practice in teaching, learning and assessment.
Tom said: "The most exciting job I've had since starting out with Teacherhead Consulting has been working with Oldham College.
"Principal Alun Francis approached me to explore whether there was scope in applying current thinking around teaching and learning, curriculum planning and my experience of the delivery of CPD in schools to the FE setting.
"He was keen to move away from the one-off CPD day where the impact can be marginal.
"Teaching for Distinction has a clear double meaning. We want students to reach Distinction in their BTECs and other qualifications; we also want tutors to teach with distinction, using evidence-informed wisdom about effective practice to design and deliver a successful curriculum for all learners.
"I am delighted Oldham has achieved an Ofsted Good grade."