Oldham fencing club celebrates six gold medals in eight national events
Date published: 24 January 2019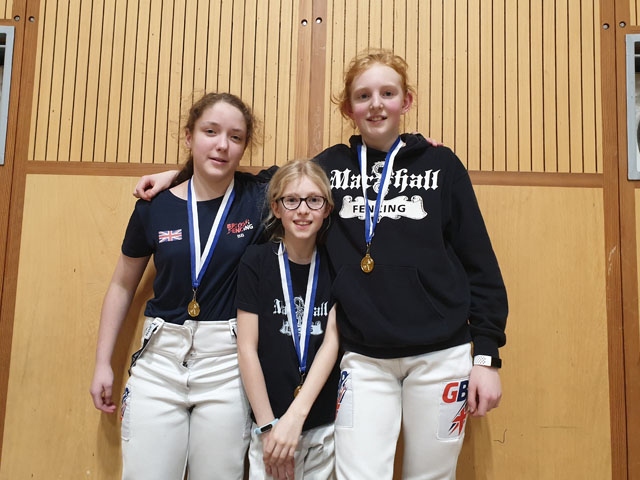 Golden Girls, Brierley, Blackldge and Blackledge
A fencing club in Oldham is celebrating after grabbing a range of wins at nationwide events.
Marshall Fencing Club, who train at the Manchester Fencing Centre at Osbourne Mill in Chadderton, took six gold medals in eight national ranking events.
The first two successes were in Cardiff on 19 January, where three of the club's members fought in the men's Under 20 ranking event.
Nathan Chorlton, Daniel Aldgate, and Nathaniel Fidler – all 15 – gained valuable experience fight against those five years older than them.
But the stand out competitor was Alice Moore, who fought in the women's event.
Alice, who goes to Oldham Hulme Grammar School, eliminated all her competitors and went undefeated.
She won the final 15-7 and came home with the gold medal.
Head coach Stuart Marshall said: "Alice has been working hard in training, four to five times a week.
"This result is well deserved."
Nicole Saunders, 13, also competed in the same event – getting valuable experience.
Then, on Sunday 20 January, ten fencers from the club competed in six youth ranking events, in age groups of under 11s, 13s and 15s.
There was a clean sweep of gold medals in five events for Marshall Fencing Club.
Millie Blackledge won the U11 Girls' Sabre event – with Miriham Wooten coming fifth and Aimee Marshall 11th.
Jake Bacon took bronze in the U11 Boys' Sabre.
Eleanor Blackledge won the U13s Girls' Sabre, while Alex Lister won gold and Max Charlett took silver in the boys' event. Aum Kurana came sixth.
There were golds in both the boys and girls' U15s Sabre events, courtest of Zachary Woodward and Bethany Brierley.
The club says this shows very promising results for the start of 2019, with fencers being selected for the European Championships in February for the sixth consecutive year.
It's also the highest medal count of any club in 2018.