Happy 1st Birthday Oldham Chronicle Online
Date published: 04 February 2019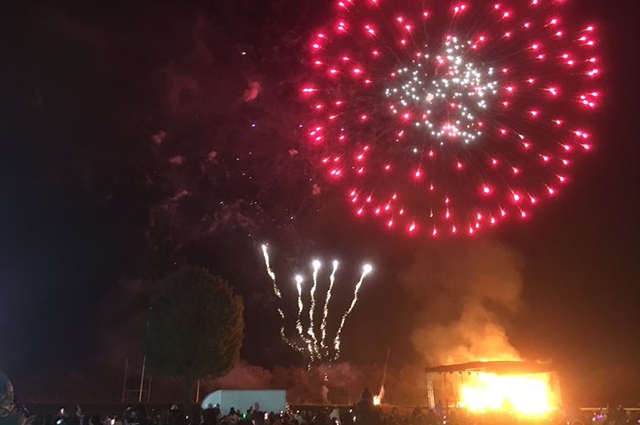 Oldhamers loved the fiery fun at the Big Bang
Here we celebrate all things local, news, entertainment and sport over our incredible first year. What a fantastic year it's been. Thank you for being a part of it!
Oldham's Big Bang lights up the night!
Oldham's spectacular 'Big Bang' lit up the night sky and was deemed another huge success as the crowds flocked to Oldham Edge.
At last, the Saddleworth Moor fires are out
After three long weeks, the wildfires on Saddleworth Moors were extinguished and Greater Manchester Fire and Rescue Service (GMFRS) withdrew all crews from the incident.
Beast from the East - Snow and strong winds batter Oldham
The Beast from the East and Storm Emma combined to batter Oldham and the surrounding areas, causing travel chaos and a raft of school closures.Howling winds and incessant snow continued to affect the borough, many parts of which resembled a ghost town as people decide against venturing out.
What a celebration - Oldham honours its grass roots sporting elite
Hundreds of people gathered at Oldham's Queen Elizabeth Hall to pay tribute to the great and good of the town's sporting scene at the Oldham Sports Awards.
Emotions run high as 'beautiful' Annie Kenney statue is unveiled
Hundreds of Oldhamers, local MPs and a number of other dignitaries, took part in the event, which including performances, a procession through the town centre, and then the unveiling of the statue itself, which was conducted by a group of local school children. Annie was a key figure in the suffragette movement, and prior to that she lived and worked in Oldham, having been born in Springhead.
Time for knitters to get busy!
The request to help the Royal Oldham Hospital's tiniest patients.The hospital were looking for natty knitters to donate hand-made bobble hats for newborn babies. The hospital had introduced a traffic light hat initiative for newborn babies, that helps to ensure all babies receive the right level of care.
Hero Steve Hill shortlisted for prestigious top teacher award
Intrepid St Joseph's primary school deputy head Steve Hill MBE was shortlisted for the prestigious Teacher of the Year Award at the Educate Awards ceremony in Liverpool.
Christmas had well and truly arrived in Saddleworth and Oldham!
Organised by the Saddleworth Round Table, the Santa Dash led to a sea of red charging down the high street as runners paced through the 2k or 5k courses which stretched out of Uppermill and Greenfield. The fourth annual event saw an appearance from the Mayor of Oldham, Councillor Javid Iqbal, as well as athletes from numerous running clubs in the area.
Big smiles and splashes galore at this year's Colour Blast
Hundreds of people turned out at a sun-drenched Alexandra Park for the third annual Dr Kershaw's Hospice 'Colour Blast'. Revellers and competitors turned out in force in fancy dress, with ducks, bears and cowboys among those spotted.
Paul Scholes frontrunner for vacant Latics job
Former Manchester United and England midfielder Paul Scholes is understood to be the new front runner for the vacant manager's job at Oldham Athletic.
Coliseum new build plans shelved
It had been hoped that work would be well under way by now on the replacement for Oldham's Coliseum theatre, but that now appears to be nothing but a pipe dream after plans for the £27 million project were ditched by Councillors.
Forty years since that first ray of baby hope shone brightest in Oldham
Forty years ago on July 25, 1978 at 11:47pm, the first test tube baby was delivered at Oldham General Hospital. Weighing five pounds and 12 ounces, Louise Brown was a miracle baby for her parents Lesley and John Brown. Louise has been the inspiration for many thousands who had thought that childbirth would not be an option for them.
Hundreds join town centre Post Office protest
Oldham West and Royton MP Jim McMahon was among hundreds of town centre shoppers who joined the Communication Workers Union's National Day of action across the UK as part of its campaign to fight Crown Office closures. Post Office Limited, plan to close the main Oldham Post Office branch on Lord Street and relocate to a smaller, reduced service at WH Smiths in the Spindles shopping centre.
The Peterloo massacre - read the story of Oldham's forgotten tragedy
As the bicentenary of Peterloo and following the release of Mark Leigh's new film, we look back at Oldham's role in the massacre that shaped our democracy.
Here's why the motorway bridge messages are saving lives
Although small, the messages they carry are saving lives.