Oldham mosque raises funds for Mayor's Appeal
Date published: 20 February 2019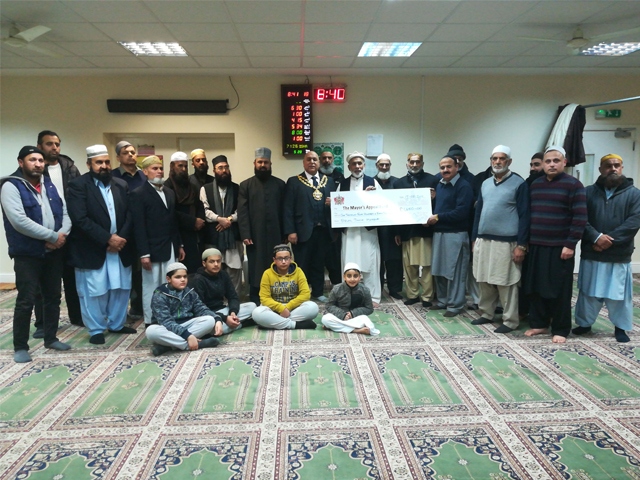 The Bilal Jamia Mosque, Clarksfield, handed the money over on Tuesday
Locals at a mosque in Oldham have raised almost £1,500 for the Mayor's Appeal.
Bilal Jamia Mosque, Clarksfield, handed the funds over to the Mayor at an event on Tuesday.
The appeal is raising money for Maggie's Oldham and Dr Kershaw's Hospice.
The Mayor, Mosque Imams, members of the Mosque's management, and members of the congregation were at the event, where the £1450 was handed over.
The mosque has been raising money for the Mayor's Appeal for a number of years.
Wasim Iqbal, secretary of the Bilal Jamia Mosque, said: "As local residents it is our duty to help. This fund raising is our way of saying thank you, showing our appreciation and giving back to the local services that are used by so many local residents.
"The appeal for Maggie's Oldham and Dr Kershaws hospice are particularly close to the hearts of the local congregation as many have lost loved ones due to cancer and many local residents have still got loved ones who are struggling with cancer and the support is very much appreciated.
"Bilal Jamia Mosque would like to say a big thank you to all the Congregation and local community who donated towards this wonderful cause.
"Bilal Jamia Mosque looks forward to working with the Mayor's appeal in the future and to help with as many good causes as we can."