National award for Oldham grassroots sports club
Date published: 06 August 2019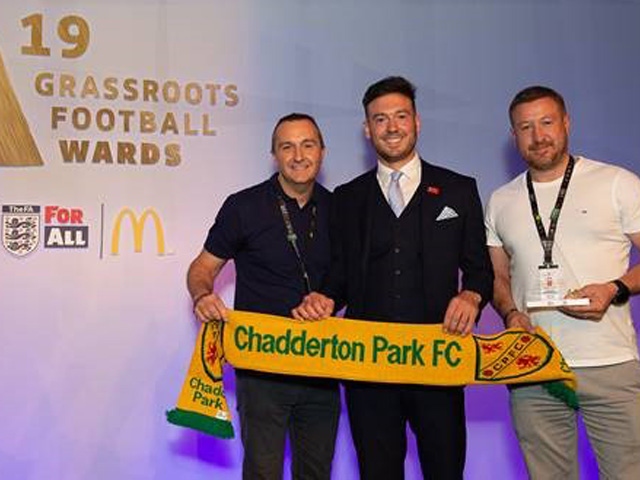 Chadderton Park Sports Club accepted the award at Wembley Stadium this weekend
Chadderton Park Sports Club is celebrating after taking home a national grassroots football award.
They picked up the prestigious Grassroots Club of the Year award at Wembley Stadium, as part of the 2019 FA & McDonald's Grassroots Football Awards ceremony.
It recognises and celebrates the tireless volunteers who dedicate so much time to the grassroots game.
The awards are now in their tenth year and Chadderton Park Sports Club joins a long list of inspirational grassroots football heroes who marched down Wembley way to collect their coveted awards.
Chadderton Park makes inclusivity define their entire ethos.
They hold no trials, welcome players who have been told they aren't good enough elsewhere and believe fun must come before the desire to win.
That explains why they have now grown to over 90 different teams, covering children, seniors, disability squads and cerebral palsy initiatives.
Chadderton Park is more than just a football club - it has regular charity drives, links to local schools and an inherently positive playing environment.
Chadderton Park Sports Club accepted their award from football legend Jack Rutter ahead of the FA Community Shield, supported by McDonald's, which saw Premier League and Emirates FA Cup champions Manchester City defeat Champions League winners Liverpool.
During the half time break, Terry Jennings and Craig Simpson from the league joined World Cup hat-trick hero Sir Geoff Hurst on the pitch in front of 77,000 fans.
"I have been involved with the Grassroots Awards since the beginning and the stories of the winners never fail to impress me," Sir Geoff said.
"Chadderton Park Sports Club should be extremely proud of their work and grassroots football in Oldham is a much better place with Chadderton Park Sports Club as a part of it.
"The English game is in a very good place at the moment with the Three Lions boasting a number of young and talented players, while the Lionesses have enjoyed a superb World Cup in France.
"Our national teams simply wouldn't be in this place without the hard work of our grassroots volunteers - every player has to start somewhere.
"It was a pleasure to meet Chadderton Park Sports Club and I hope they continue their extraordinary commitment to football for many years to come."