Letter: Good care transforms disabled people's lives
Date published: 10 February 2018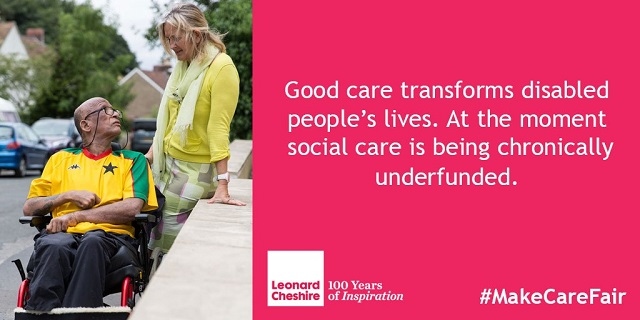 Leonard Cheshire
Dear Editor,

Social care is being chronically underfunded. By April 2018, the government will have taken £6 billion out of social care since 2010.

These funding cuts mean many disabled people receive rushed 15-minute personal care visits. Being forced to choose between eating and showering is unacceptable.

Leonard Cheshire campaigners want a stop to these undignified visits and an increase in social care funding now.

Concerned readers can find out how many people in our region are still receiving 15 minute visits and learn more about the Leonard Cheshire campaign and ask Heath Secretary Jeremy Hunt to end the 15 minute care crisis at:

https://campaigns.leonardcheshire.org/tell-jeremy-hunt-15-minute-personal-care-destroying-lives#

Thank you.
Yours,
Andrew Wastling
The views expressed are those of the author of the letter and not those of Oldham Chronicle.