Commemorating Holocaust Memorial Day
Date published: 02 February 2018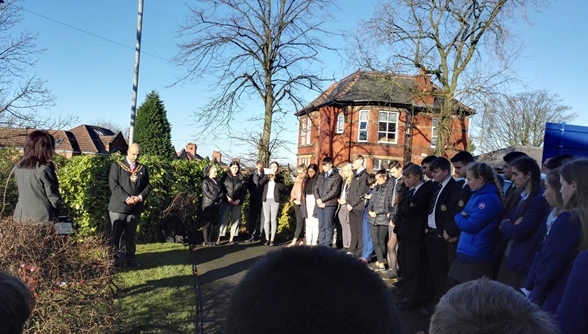 Commemorating Holocaust Memorial Day at the Hulme Grammar School
Pupils and staff at Hulme Grammar School were among many across the borough who commemorated Holocaust Memorial Day.

The annual events are a time for people to pause and remember the millions who lost their lives, or whose lives have been changed, during the Holocaust and subsequent genocides.

Hulme Grammar hosted a special tree planting ceremony, then services followed in Crompton and Saddleworth, at the Crompton War Memorial and the Saddleworth Peace at Uppermill Square from 1.50pm.

Oldham Council's main event was staged at The Oldham Academy North in Royton.

The Mayor of Oldham, Councillor Shadab Qumer, saw the tree-planting ceremony as a poignant marking of Holocaust Memorial Day.
He said: "This anniversary is always going to be very important.

"It is so important to recognise what has gone on in the past, and for the children at all our local schools to recognise that this commemoration is still going on.

"Genocides are still going on, but the more we talk about these things, the more we can try and put pressure on the relevant authorities to eradicate genocides throughout the world."

The Oldham Academy North event was themed around 'The Power of Words' and will be opened by The Mayor of Oldham, Councillor Shadab Qumer, before presentations and reflections by pupils from The Oldham Academy North and Oldham Youth Council.

It was organised in partnership with The Oldham Academy North and Oldham Interfaith Forum.

Councillor Barbara Brownridge, Cabinet Member for Neighbourhoods and Cooperatives, added: "Holocaust Memorial Day gives us an opportunity to remember the millions of people who were killed in one of worst atrocities in history and subsequent genocides.

"It is also a day to stand by those who survived these horrific events.

"Through this we have the opportunity to reaffirm our commitment to opposing prejudice, discrimination and racism wherever it occurs."

The first Holocaust Memorial Day was held in January 2001 and has since taken place annually.

The chosen date is the anniversary of the liberation of Auschwitz concentration camp by the Soviet Union in 1945.