Royton and Crompton pupils get down on the farm
Date published: 13 February 2018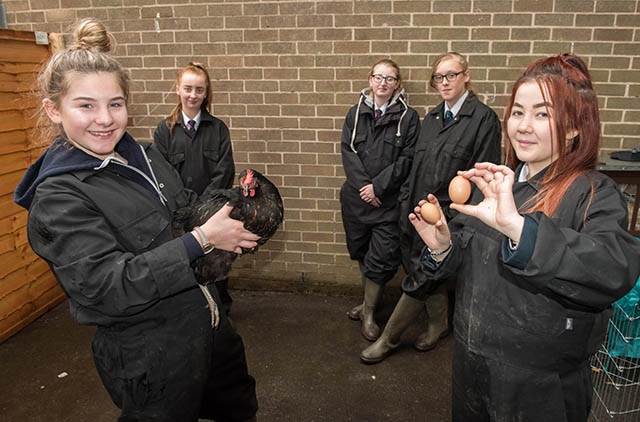 Royton and Crompton school pupils getting their hands dirty down on the farm
Pupils are getting their hands dirty down on the farm … without even leaving their school.
A working farm is the latest addition at Royton and Crompton School, where pupils are learning to look after chickens, rabbits, pigs and goats.
They are working towards their BTEC in animal care, one of the new courses introduced by the school in September to target reluctant pupils and improve attendance and results.
Pupils can also study engineering, health and fitness or occupational studies which involves things like mechanics, bricklaying and farming.
Assistant head teacher Karl Said explained: "It's targeting the kids who are not accessing school.
"We had a lot of kids who left last year with very few qualifications. They were saying 'I'm not into RE, I'm not into technical drawing'. They were doing subjects they did not like and were not good at.
"We decided not just to improve their experience of school but to get them qualifications as well. That's what we are here for."
Around 40 pupils in Years 9 to 11 are taking the new qualifications, working in small groups. Another 26 Year 7 and 8 pupils are also doing occupational studies.
The school hopes to give more pupils the opportunity to take part after Christmas following a review of the initiative - but Karl says he has already seen an improvement in pupils' attitudes and attendance.
"These kids are very short-termist. When they were doing a subject they weren't interested in, they would think 'why am I here?'. They couldn't see the long-term outcome," he said.
They are now applying what they have learnt in maths, for example, to real life situations like designing the animal pens.
Karl added: "What they are doing now is more practical. When they see a chicken laying an egg there is a tangible link to what they have done and they are then bringing that attitude to the wider school.
"Their vocabulary has also improved and it is also calming them down, especially working with the animals.
"With the farm we are also trying to give them an understanding of where their food comes from, why it's important to eat healthy food and why it's important to be sustainable rather than just a throw-away culture."