Cup semi-finals beckon for Hopwood Hall
Date published: 14 February 2018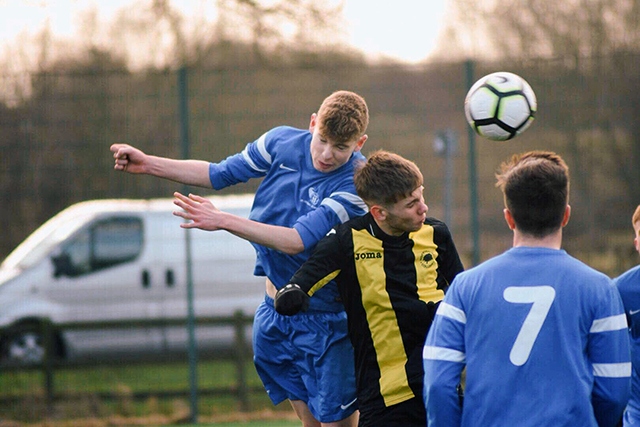 Hopwood Hall's Adam Knott scores the only goal against York
Hopwood Hall College's Football Academy made it through to the semi-finals of the English Schools FA Cup, after beating York College 1-0.
The win came against a York side that were one of the favourites for the cup and currently sit unbeaten at the top of their own league, two leagues above Hopwood Hall College.
Despite York's reputation, it was Hopwood Hall who had the first chance, with Adam Knott testing the 'keeper with a low drive.
Eight minutes into the second half, Knott latched onto the end of another counter-attacking pass.
This time, he made sure he didn't miss his mark, smashing in a left-footed drive.
York were rattled, but continued to pen Hopwood Hall into their own half.
Hopwood 'keeper Adam Lomax was forced into several stunning saves and when York did finally score, it was ruled offside.
When the final whistle did blow, there was huge relief for the local side.

Rob Johnson, Head Coach at Hopwood Hall College's Football Academy, said: "Our boys were both ecstatic and shattered.
"York were devastated and no wonder, they were by far the best team we've played in a long time. We didn't stop singing on the coach home."

The result means Hopwood Hall College could be the only team from the whole of the norh-west left in the competition, should Accrington and Rossendale College not win their quarter-final tie.