Former Dragon's Den contender drops in at Oldham College
Date published: 19 February 2018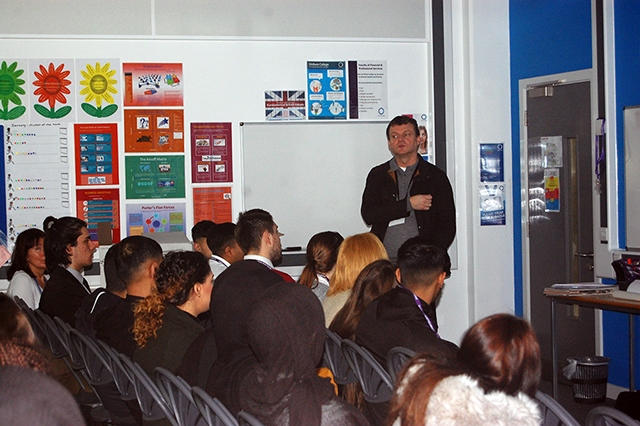 John Tague speaks to Enterprise and Business students at Oldham College
John Tague, the founder of Liverpool-based independent crisp company and Dragon's Den contender, was in town to spread his words of business wisdom at the Oldham College.
He spoke with Enterprise and Business students about what is important in business and the lessons he's learned.
Mr Tague successfully secured a deal with investors Deborah Meaden and Peter Jones after a bidding war on the BBC's Dragons' Den back in 2015.
Although investment of £125,000 was agreed on the show after giving away 30-per-cent of his business, split equally from both Dragons, it subsequently fell through. He's now glad that the deal didn't continue.
"It could have made me successful quicker, but it was the right decision to pull out," said Tague.
"As family members, we're the only shareholders of the company and we can go in the direction we feel best."
He explained to students how his strategy had changed after trial and error.
The company initially targeted supermarkets, selling into the likes of Asda and Tesco, but he soon discovered that they only purchased and sold crisp products at a price that was not viable for his business.
Since then they have altered direction and have moved to targeting different chains of shops, hotels and pubs.
Tags now has a £300,000 turnover, employs three full-time staff and a further three associate staff.
Its crisps can be found across the UK including in Bean Coffee outlets across Greater Manchester and Merseyside, Hotel Indigo, Crowne Plaza Liverpool, Pullman Liverpool Hotel and Virgin first-class trains.
Discussing sustainability, growth and establishment, his key advice to students was to face problems head on and to keep learning every day, to keep a pragmatic view and think calmly about how to tackle every hurdle.
Mike Jackson-Leafield, the college's Business & Enterprise Tutor, said: "John set the record straight on the reality of business.
"He explained what drives him and encouraged students to dream high.
"It's important that our Enterprise and Business students not only learn the theory of business but also about the practicalities."