Roundthorn staff prove that they're star educators
Date published: 27 February 2018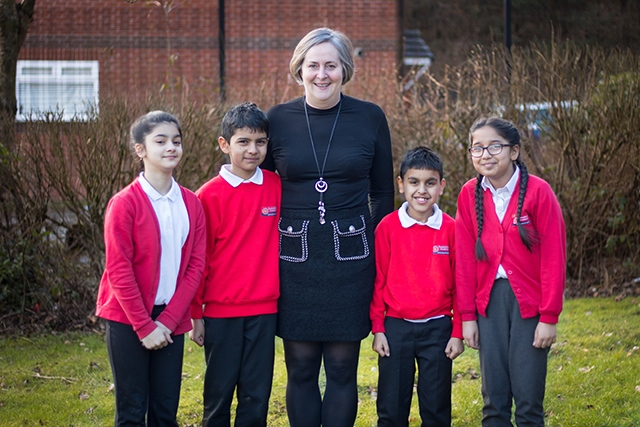 Roundthorn Primary Executive Primary School Executive Principal Lisa Needham with some of her happy pupils
It has faced its challenges over the past decade or so, but Roundthorn Primary Academy continues to flourish under the guidance of Executive Principal Lisa Needham.
In 2007, she joined a school which Ofsted then deemed 'requires improvement'. For a school from an area struggling with deprivation and with many of the children speaking English as an additional language, the Ofsted mark was hardly surprising, but since then, the staff and pupils' hard work and dedication has turned fortunes right around.
A subsequent Ofsted inspection in 2011 led to Roundthorn being proclaimed 'outstanding', and that rating remains in place, reinforced by annual health-checks.
"Our progress measures continue to be phenomenal," said a proud Mrs Needham, "but we have to continue to improve and evolve to keep pace with changes in education and in society at large. Staff attend relevant external training courses, they all have individual development programmes, and we run training and coaching sessions within school to support and challenge each other. As part of the improvement model we use, staff film themselves teaching so that this can be reviewed and used as the basis for coaching to make further improvement.
"Our school development is based on research and then analysed and evaluated by us. This ensures that interventions (such as those used to improve literacy) are cost-effective.
"We have very rigorous pupil progress meetings attended by senior leaders and governors and we can then adapt a child's day-to-day learning based on those meetings.
Roundthorn Primary Academy aims to prepare children for their future, with all the challenges that entails. They adapt the curriculum to ensure that children leave primary school ready for the next stage of their learning, ready for work and ready for life.
Mrs Needham explains "We aim to develop character traits like resilience, team working, self-motivation – traits which are developed by the best public schools. We live in a global economy now, so we need to encourage creativity and self-directed learning. We talk to the children about having a growth mindset – it's a can-do culture at Roundthorn.
"Outdoor learning is a strength of the curriculum at Roundthorn. The children problem-solve, build dens and learn to use tools in their Forest School and life-skills lessons, while we also focus very much on healthy minds and healthy bodies.
Roundthorn Primary Academy is one of four Focus Trust schools in Oldham – they include Coppice Primary, Freehold and Lyndhurst. Roundthorn works in partnership with Coppice, sharing staff and resources to improve standards at both schools.
In turn they are part of the Focus-Trust; an Academy Trust which has 15 primary schools spread across the north-west.
Mrs Needham was keen to praise her teaching team at Roundthorn, one which is clearly dedicated to learning at all levels.
"The team from 2011 has of course changed" added Mrs Needham. "We still have a number of staff from then, but we also have an amazing team of young staff who have joined over the past few years.
"People often say when they come into school that there's a lovely atmosphere in Roundthorn, and we are proud of that. Everyone here is learner; myself, the rest of the staff and the children.
"I ensure that I demonstrate that I continue to learn, as do all the staff because in the end that's what we need to do to enable us all to continue to do what we do best - we're educators."