What a result for Oldham Academy North!
Date published: 07 March 2018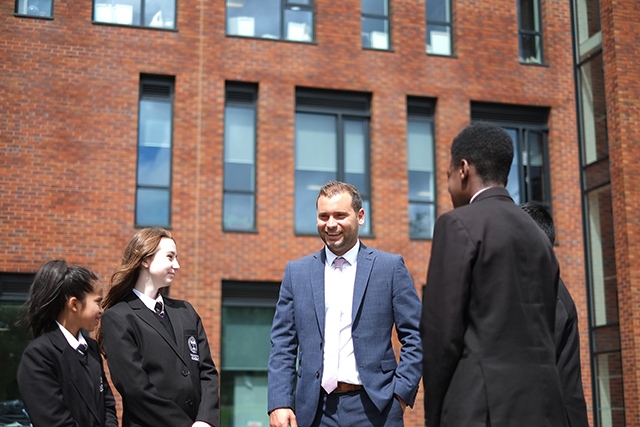 Oldham Academy North headteacher Chris Davis with some students.
The Oldham Academy North has achieved not only the highest Progress 8 score in Oldham, but the fifth best score in Greater Manchester in the 2016-17 academic year.
Progress 8 measures the progress that students have made between the end of key stage 2 and the end of key stage 4, and with an impressive score of +0.818, TOAN has placed well above the national average.
It is an achievement all the more impressive given that the four schools that have placed above TOAN are all selective schools.
Headteacher Christopher Davis said: "I am delighted by this exceptional set of results which have been made possible by the dedication of the entire academy community.
"To rank so highly in Greater Manchester, surpassed only by four selective schools, is testament to the hard work of all those connected to our academy.
"We are lucky to have a team of dedicated leaders, teachers and support staff that really care about every students' success.
"Our regional team is phenomenal in their support of leaders and students at the academy, empowering us to focus our efforts on those who matter most - our students.
"Most importantly, I am delighted for our students who continue to impress and inspire in equal measure.
"I am hugely positive about the future and I look forward to continue working with our community to take our academy to even greater success."
High expectations are upheld by staff at every level within the academy.
Teachers offer lunchtime and break time sessions as well as extra weekend classes.
Students that want to take up an extra GCSE in statistics can, thanks to teachers making time for additional classes.
Staff work together to assess how to best support their students, meeting at weekly teaching and learning briefings to discuss students' progress and to share best practice.
The Oldham Academy North is part of E-ACT, a multi-academy trust responsible for 25 academies across the length and breadth of England.
The community includes over 15,400 pupils and 2,300 teaching and non-teaching professionals across the country.