Royton and Crompton students decide enough is enough
Date published: 09 March 2018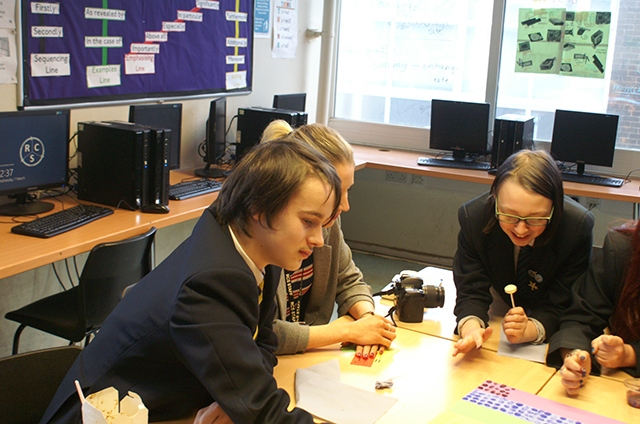 Jonathan and Kacey at Royton and Crompton school
After a report highlighted a number of incidents of homophobia at an Oldham school, a group of students have decided that enough is enough and with the help of staff, they have created a new and innovative method of helping to combat the problems and to increase awareness and understanding.
At the end of Year 10, Royton and Crompton student Caitlin founded a collective of like-minded students to focus on what could be done in their own school.
Caitlin was aware that there existed a lively LGBT+ community at the school and founded the LGBT+ Support Group to allow students a voice and to showcase the benefits of acceptance within their peer group and beyond.
Caitlin then found that in bringing the group together weekly in their lunch break, it provided a safe space for the students to share their thoughts, concerns and aspirations.
Facilitated by staff members Miss Wood and Mr Ludford, it became increasingly obvious that the group were able to provide an invaluable way of broaching a subject that many still see as taboo.
Mr Ludford said: "This is a great idea and is a fantastic way of bridging any gaps that could exist."
Since the end of 2017 the numbers have increased steadily and having already attended the Ambassadors Against Hate conference, the group have also addressed their own school assemblies to overwhelmingly positive feedback.
Caitlin and the group would welcome feedback and input from other schools and colleges from the borough with the aim of forming a collaboration to provide a uniformed message promoting inclusion irrelevant of their own personal beliefs.
This would provide a bigger voice and provide a platform which could be adopted across a far wider audience.
The latest get together was to create rainbow flags that will be displayed around school to represent the group's identity.
If any schools would like to become involved please contact Amy Wood at: woodam@roytoncrompton.oldham.sch.uk
LGBT+ Support Group Members attending the latest get-together were Jonathan, Aeryn, Ellie, Reece, Jamie, Caitlyn, Daisy, Angelo, Alyssa, Bethany, Skye and Kacey.