Schools kitted out with defibrillators
Date published: 15 March 2018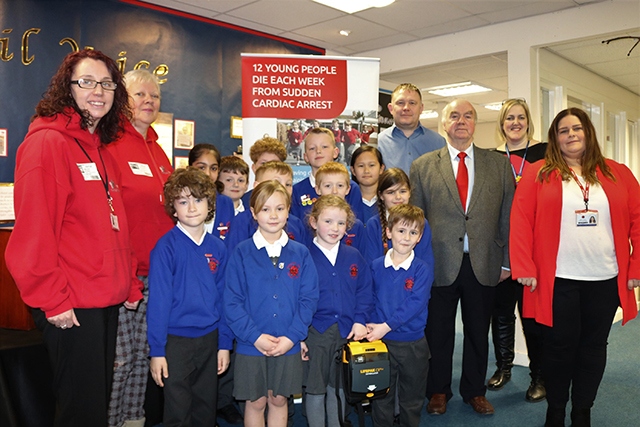 Whitegate End Primary School's School Council (front) pictured with (from left to right); Emma Short and Lesley Appleton from Hand on Heart, Cllr Chris Goodwin, Cllr Graham Shuttleworth, Elaine Owens and Joanne Draper (both from Whitegate End Primary School).
Schools in Chadderton have been kitted out with potentially life-saving defibrillators.
Defibrillators have recently been installed at Whitegate End and Stanley Road primary schools to help save the life of anyone who may suffer a cardiac episode.
Funds have been donated by Chadderton South councillors, the Hand on Heart charity and the schools themselves.
Tragically 12 young people in the UK die of sudden cardiac arrests every week.
The Hand on Heart charity works with the Oldham community to raise awareness of sudden cardiac arrest in young people and raise funds to provide schools with defibrillators.
The charity also delivers training to staff and pupils on how to use the equipment.
The charity and supporters have now raised funds to enable four schools in Chadderton to order their defibrillator and life-saving training and are on a mission to replicate this at all schools across the borough.
Kingfisher School, Chadderton, were the first to benefit from the charity's work, followed by Corpus Christi RC Primary School.
Cllr Graham Shuttleworth said: "Heart conditions might be something people tend to associate with adults but a staggering amount of young people die of cardiac arrests each week.
"We hope no one falls ill and that these defibrillators are never used.
"However, we have to do our bit and make sure that if someone does suffer some kind of cardiac episode that the right equipment is in place to potentially save a life.
"We're so grateful for the fantastic work Hand on Heart does and this is an opportunity we could not turn down. Pupils at the schools now also have a really good knowledge of what these machines do and how they work."
Lesley Appleton, Fundraising Coordinator at Hand on Heart, said: "As a charity dedicated to keeping children safe and preventing the deaths of 12 young people each week from sudden cardiac arrest, we are delighted to be able to kick start the Oldham campaign off by supporting four local Chadderton schools.
"Working with the schools, local councillors and The Pink Tie Club, who very kindly donated £1,800 towards the four schools, will enable us to provide lifesaving defibrillators along with staff and pupil training.
"We can't thank those involved enough for all their efforts."
Hand on Heart is also looking for local businesses, organisations or individuals who are willing to support this campaign with sponsorship, fund-raising, donation or volunteering.
Please contact Lesley via www.handonheart.org or 0845 071 0822 if you can help.